CHIMNEY REPAIR & INSTALLATION SERVICES
We replace and install chimney caps in Huntington NY 11743 and across Long Island. We offer a wide range of chimney services including repair, rebuilds, inspections, cleaning and more. No need to get on a ladder and try to replace your chimney cap. Call us now for same day chimney cap service.
Why is it important to have a chimney cap in Huntington NY 11743?
Having a chimney cap in Huntington is very important as it will keep animals out of your chimney and help prevent weather conditions form ruining the inside of the flue. A cap installed on the exterior of the chimney will help to insure a long healthy life for the chimney and keep repair costs lower over the years.
Many homeowners overlook this simple preventative maintenance installation. A good chimney sweep will educate and inform the homeowner that having a cap is a great way to save money and help prevent future problems.
We provide only the highest quality stainless steel chimney caps available. Each chimney cap comes with a lifetime warranty, and will enhance the look of your chimney.
To buy and install a new chimney cap in Huntington NY 11743, call Expressway Chimney at (631) 772-6363
We Are Dependable & Affordable Chimney Contractors on Long Island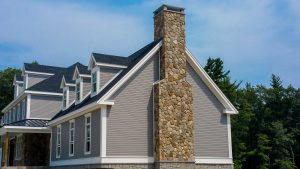 We at Expressway have all of your chimney needs covered!
If your chimney is in need of repairs or need be completely replaced then you are in need of a chimney company you can trust.
However, choosing the right company is hard. In fact, there seems to be more chimney companies these days than 7 Elevens on Long Island. Thus, talking to so many in order to find  the right one is going to be so much harder. Expressway is the name you should keep in mind. Get three bids, but make sure one of them is Expressway.