CHIMNEY CHASE COVERS AND REPAIRS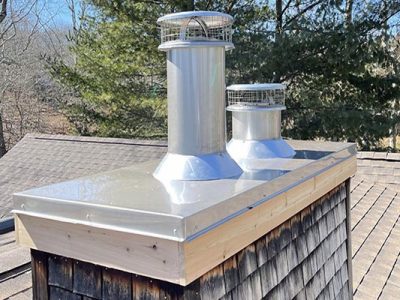 Need A Chimney Chase Cover Replacement?
If you're looking at chimney chase covers – either for a cover repair or whole chimney chase cover replacement – then you've come to the right place! We at Expressway have decades of experience with chimney repairs and installations – for a wide array of residential or commercial chimney chase covers.
Stainless steel chase covers are made custom to your specifications and have a warranty against rust, corrosion and manufacturers defects. Often used to cover chimney chase surrounds or brick masonry crowns, it fits over the top of the chimney like a shoe box cover fits the top of a shoe box. Install a stainless steel chase cover as a lifetime fix that you will not need to worry about. Add on features such as diagonal creases and drip edge can be added at zero additional cost! 
A copper chase cover covers the entire top of your chimney. Often used to cover chimney chase surrounds or brick masonry crowns, it fits over the top of the chimney like a shoe box cover fits the top of a shoe box.
Typically, a copper chase cover is used in place of stainless steel for aesthetic purposes. Add on features such as diagonal creases and drip edge at no additional cost! You can call us with any questions and order processing assistance.
What are Chimney Chase Covers?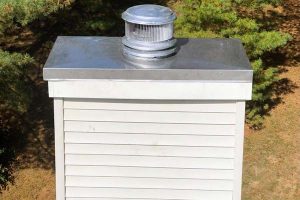 Chase covers are the external top covering for a pre-fab chimney or a brick chimney. If you are looking to replace yours, you probably have lightweight aluminum or rusted galvanized steel. The cost difference is minimal between galvanized compared to stainless steel. These will only cover the top of the flue opening. These are also known as top pans.
Signs your chase cover needs repair
If you have a prefabricated or factory-built chimney, you share one thing in common with someone with a masonry chimney: you need to keep water out! Prefab chimneys can rust and rapidly deteriorate if water makes its way into the system — and those repair costs can add up fast!
Whether your chase is made of metal, vinyl, or wood, the chase cover is a key component in the fight to stay dry. Essentially, it is to a prefab chimney what a chimney crown is to a masonry chimney. 
But if it's so important, why is the chase cover so often to blame for chimney leaks and water damage?
Well, unfortunately, many chase covers are made of whatever sheet metal the contractor had laying around when the chimney was installed. Not all sheet metal is created equal and not all metal is equipped to withstand the constant exposure to moisture that the chimney chase experiences. This can cause premature failure on the part of the chase cover.
Likewise, weaker metals will often sag under the weight of water. The more the chase cover sags, the more it will pool water. Eventually this can lead to a full chase cover collapse. 
So, how do you know if your chase cover is causing a leak in your home?  
Here are some of the tell-tale signs:
wood rot in your attic near the chimney

there is water flowing directly into the chimney

water staining and discoloration on your chase (if your chase is vinyl sided)

water or rust is now inside of your fireplace

a rotting, water-stained chase (if your chase is wood)

rust streaks down the chase of your prefab chimney

you see water pooling on top of your chimney chase cover
rust is now visible on your chase cover
there is definite damage to chase cover
Why Choose Expressway
We at Expressway would love to handle all of your Chimney Chase Cover and other home needs. However, we know that there are a ton of options to choose from. So why choose us? We could talk about quality and the Expressway advantage.
However, we let our work speak for it self. Feel free to check out our reviews or even look at some of our previous work. We know that after you take a look, you will see just how much pride we take in each project. For more information feel free to fill out the form below or give us a call at 631.772.6363 today if you are looking for a qualified chimney company for Long Island.
FOR CHIMNEY CHASE REPAIRS
LONG ISLAND'S CHIMNEY REPAIR & INSTALL EXPERTS
The Most Dependable & Affordable Chimney Contractors On Long Island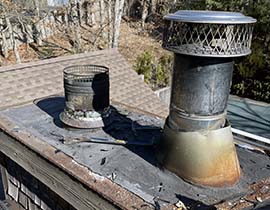 Expressway Roofing & Chimney has your chimney needs covered! 
If you're looking for a Long Island chimney company that won't beat around the bush with awful customer service – our free, fair and honest quotes are completely transparent. Our business model was designed around the concept of fairness, openness and honesty for our fellow homeowners across Nassau and Suffolk counties. Trust in Expressway Roofing & Chimney just like our
long list of Long Island homeowners
that have dealt with our residential roofing services over the last 20 years.
Chimney Leaks Fixed In Suffolk
Suffolk Chimney Caps Installed
New Chimney Boxes In Nassau
New Chimney Flashing Near Suffolk
Suffolk Chimney Repairs
Chimney Flashing Near Nassau
Suffolk Chimney Flashing Replacements
Chimney Repair Contractor In Nassau
Suffolk Chimney Inspections
Chimney Restorations In Nassau
Chimney Sealing Near Nassau
Chimney Flashing Long Island
Suffolk Cap and Crown Repairs
Copper Chimney Flashing Nassau
Suffolk Chimney Flashing Maintenance
Prefab Chimney Repairs Nassau
New Flashing In Nassau
Suffolk New Chimney Installations
Rotted Chimney Flashing Repairs
Suffolk Chimney Contractor
Flue Liner Repairs On Long Island
Storm Damage Repair In Suffolk
Chimney Flashing Roof Repairs In Suffolk
Suffolk Damper Installs
Freestanding Chimney Installs In Suffolk
Suffolk Chimney Repointing
Suffolk Chimney Masons in Nassau