Siding Repair And Installation Services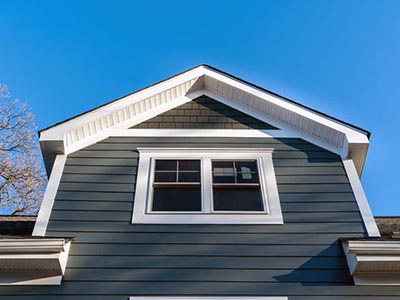 Expert Exterior siding Contractors
House siding repair, because of the many types of residential siding, is its own skill requiring mastery. Are we the best vinyl siding installers? Probably. And we are also probably the best aluminum siding installers and aluminum siding contractors on Long Island. It's these different skills that make us one of, if not the top, siding companies in Nassau and Suffolk. So if you are wavering between calling a Hardie board installer or a vinyl siding repair company – or maybe you are curious about cedar siding cost and cedar siding maintenance before you decide on an exterior siding solution for your home or building. Expressway's home roofing and siding contractors are often mentioned as one of LI's best exterior siding contractors because when a homeowner calls a local siding contractor or a house siding contractor like us for a home siding repair, we are always the consummate professional siding contractors that get the job done – on time, the first time and on budget. We are known as courteous house siding contractors that are well-versed in Long Island homeowner's needs and requirements – but more accurately – we're expert residential, home exterior contractors because we also specialize in roof repairs and wood siding – like doing cedar siding repairs and cedar siding panel repairs when needed, or vinyl siding and vinyl siding installations and vinyl siding repairs, wood siding and wood siding panel repairs plus we perform roofing repairs, vinyl repairs, window repairs and gutter repairs. Or perhaps you are looking for cedar siding alternatives due to budget restraints and are searching for aluminum siding installers like us for an aluminum siding installation or an existing aluminum siding repair. Our local exterior siding contractors can more-than-handle your house siding repair – whether it is vinyl siding repair, cedar siding repair, aluminum siding repair or cedar siding shingles… our home siding company will be with you every step of the way. Whatever way you are leaning, give this expert roofing and siding company a call first at 
631.772.6363
.
New Exterior siding Installations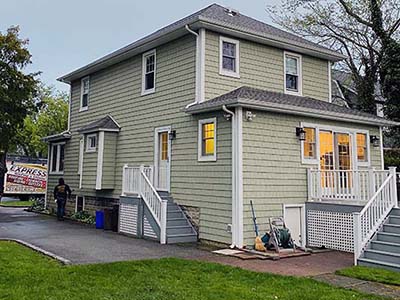 We at Expressway Roofing & Chimney have all of your siding needs covered! Anything from a full installation of new vinyl siding, to repairs for your old cedar siding shingles – you can rest easy knowing that the siding repair job will be finished correctly and on time. 
We know first hand that siding is a vital part of your home. Some signs that your siding might need to be replaced are:


You are frequently painting it
You are receiving higher than normal heating bills
There is visible rotting of the siding material
There is warping of the siding material
Bubbles are forming in the siding material
Mold, fungus and or mildew is now visible on the siding
Paint is peeling away from the siding material
Wall paper is starting to loosen on interior walls of the house


While these are just some of the signs that your homes siding will need to be replaced, we do suggest having an expert come out and take a look. This can help prevent major damage to your home later on down the road. Which we promise, will be much more costly then having this repaired now.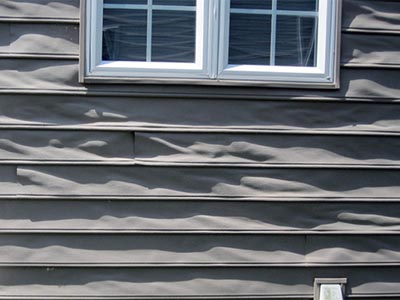 This is something that we could go on and on about. However, the biggest items that we will touch on is the fact that it protects the exterior walls and structure of your home or building and the interior contents of your home from the elements. The main culprits of structural damage – internal or external – is water – which once in your home – can cause major issues as well as costly repairs. 
Today's vinyl or cedar siding offers homeowners the ability to add some real style, decor and flair to their home with all of the different options available these days.
Vinyl Siding Is A Huge Value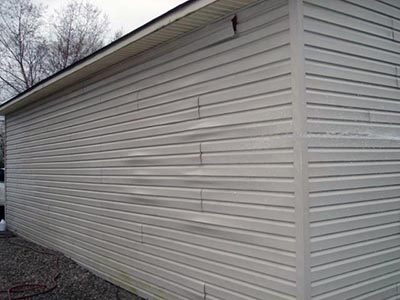 Why not give your home an updated look with brand new siding? You will not only enhance the look of your property, but also its value. We offer a variety siding that include premium vinyl, cedar shake, lap siding, vertical panel and cement siding.
Insulated vinyl siding is one of the best investments that you can make for your home. Although wood and metal are popular choices for siding material, wood options can fade and rot in time and metal products are often poorly insulated and can lose their paint easily in extreme weather.
Expressway is committed to providing the highest quality vinyl or cedar siding products and services. Once we have scheduled your siding service, we will keep you updated on the siding job's progress at the end of each day, making sure you are completely satisfied with the work, from start to finish.
Options, Options & More Siding Options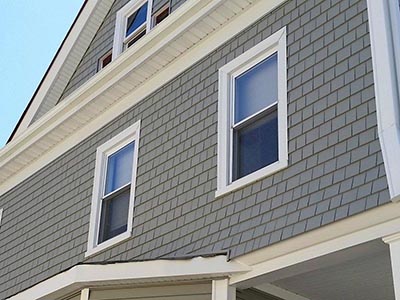 Some of your choices in siding style include:
Clapboard – which has the traditional look of a flat or planed board. It is America's most popular siding style.
Dutch lap siding offers a flat profile accented by a gentle chamfer along the upper edge. Its beveled style creates a unique statement for your home. 
Hand-split shakes – which are crafted to represent the natural look of cedar shakes. It is popularly used by homeowners to accentuate architectural aspects of their homes. 
Scallops help highlight gables, window boxes and eave edges, as well as create frieze boards and bands to emphasize your home's style. 

Shake shingles are often hand-crafted and bring out the look of real a cedar ply to your home. 

Cedar is popular when it's used to accentuate the architectural aspects of your home or to side your entire house.


Call Us For Your New Exterior Siding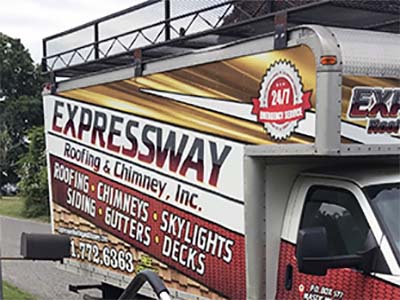 We at Expressway would love to handle all of your siding and home needs. However, we know that there are a ton of options to choose from. So why should you choose us? We can easily talk about our own quality – and the 'Expressway advantage'. However, we like to let our work speak for itself. Feel free to check out
our reviews
look at some of our previous work. We know that after you take a look, you will see just how much pride we take in each project.
For more information feel free to fill out the form below or give us a call at
631.772.6363
.
LONG ISLAND'S SIDING REPAIR & INSTALL EXPERTS
The Most Dependable & Affordable Siding Contractor On Long Island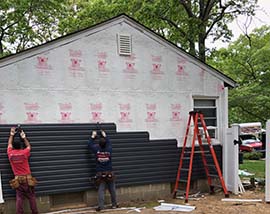 We at Expressway Roofing & Chimney have all of your vinyl, metal, cedar and veneer siding needs covered! If you are looking for a Long Island roofing company that won't hide behind bad customer service then you will appreciate our free, fair, transparent and honest quotes and work. In fact, our business model was designed around that concept of fairness, openness and honesty – for our fellow homeowners across Nassau and Suffolk counties. Trust in Expressway Roofing & Chimney – just like our long list of Long Island homeowners that have availed themselves of our residential siding services over the last 20 plus years.
Broken Vinyl Siding Repairs LI
Dutch Lap Siding Near Nassau
Vinyl Shake Siding Near Nassau
Vinyl Siding Contractor In LI
Vinyl Siding Repairs In Suffolk
LI Flat Metal Siding
Vinyl Siding Replacement Near Nassau
LI Siding Inspections
Garage Siding On Long Island
Siding Restorations In Nassau
Vinyl Siding Installs In Suffolk
LI Siding Repairs
New Siding Installations Near Nassau
Siding Contractor Long Island
Fascia Repairs In Suffolk
Siding Contractor Near LI
Siding Installs In Suffolk
Gutter Flashing Repair On Long Island
Siding Repairs On Long Island
LI Flashing Repairs
Vinyl Siding Replacements In Nassau
Siding Waterproofing On Long Island
Vinyl Siding Installs On Long Island
Cracked Vinyl Siding Repair In LI
LI Shed Siding
Asphalt Siding Installs On Long Island
Vinyl Siding Contractor Long Island
Cedar Siding Installation On Long Island
Siding Leak Detection Near Nassau
Siding Leak Repairs In LI
Vinyl Siding Repairs On Long Island
Siding Underlayment Repair On Long Island
LI Slate Siding
Brick Siding Repairs LI
Storm Damage Repair In Suffolk
Vinyl Siding Repairs In Suffolk
Vinyl Tile Siding In Suffolk
Vinyl Siding Replacement Near Nassau
LI Vinyl Siding Installs