CEDAR WOoD Siding RepairS
WOOD EXTERIOR SIDING REPAIRS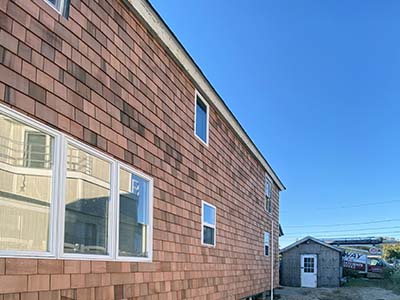 Thinking of Getting New Wood siding?
There is no substitute for the beauty and durability of cedar siding. Red cedar gives your home a level of warmth and beauty that you can't get with synthetic exterior siding. Red cedar is inherently resistant to decay, rot and insect attacks. Unlike cedar – plastic siding doesn't have any natural defenses against things like mildew. In addition, composite siding is susceptible to fading from sun light and can't be restored or refinished like cedar once its color's faded.
Real cedar siding is one of the most sustainable exterior siding available. It produces the least greenhouse gas, air pollution, water pollution and solid waste. Not only that — red cedar lumber is harvested from the most sustainably- managed forests in the world. So you can feel better about your choice of cedar wood.
Cedar is free of pitch and resin, which means it takes to stains, oils and finishes very well. As a result, you have a lot of siding color options. The same goes for the style options. For example, you can go for the warm traditional feel of layered bevel or you can streamline your home's look with some super sleek, tongue and groove siding or you can get creative with your own board and batten pattern.
Why Is Cedar Siding Important?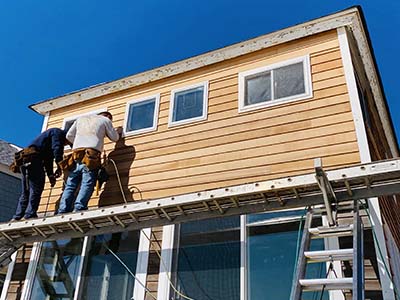 This is something that we could go on and on about. However, the biggest items that we will touch on is the fact that it protects the exterior walls and structure of your home or building and the interior contents of your home from the elements. The main culprits of structural damage – internal or external – is water – which once in your home – can cause major issues as well as costly repairs. 
Today's vinyl or cedar siding offers homeowners the ability to add some real style, decor and flair to their home with all of the different options available these days.
Cedar Siding Is An Amazing Visual Upgrade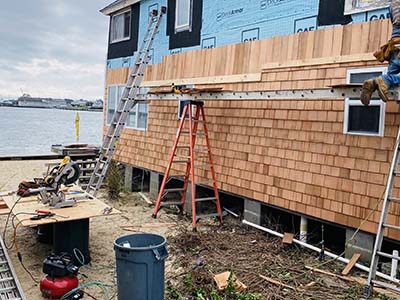 Why not give your home an updated look with brand new siding? You will not only enhance the look of your property, but also its value. We offer a variety siding that include premium vinyl, cedar shake, lap siding, vertical panel and cement siding.
Insulated vinyl siding is one of the best investments that you can make for your home. Although wood and metal are popular choices for siding material, wood options can fade and rot in time and metal products are often poorly insulated and can lose their paint easily in extreme weather.
Expressway is committed to providing the highest quality vinyl or cedar siding products and services. Once we have scheduled your siding service, we will keep you updated on the siding job's progress at the end of each day, making sure you are completely satisfied with the work, from start to finish.
Cedar Versus Fiber Cement Siding Options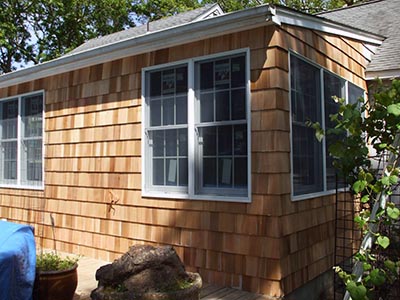 Cedar siding offers homeowners flexibility in design and appearance.
Cedar siding's aesthetic advantages include that fact that it:
Can be painted or stained and the grain can still be seen and appreciated
Comes in many styles including lap siding, bevel, shakes or shingles
Provides modern or rustic looks 


An important element of doing any home improvement project, your budget can give you a good idea of what type of siding to use. Neither cedar siding nor fiber cement are the least expensive option. Vinyl siding is least expensive, but it is also less attractive and less durable than the other two forms of siding.
Fiber cement siding runs a few dollars less per square foot than cedar siding, and requires more labor to install because it is heavy and, hence – durable. Cedar siding is more costly to maintain than fiber cement siding because it needs to be treated or painted more often.
When it comes to durability and maintenance, fiber cement siding has many definite advantages over cedar siding. Because cedar siding is made with natural wood, it is subject to the effects of wind, rain, ice, snow and hail. Fiber cement siding is designed to be long-lasting and resists weather damage better than cedar. Cedar is subject to termites, woodpeckers and other pests that love natural wood. These pests don't eat fiber cement.
Cedar siding must be repainted or re-treated every 3-5 years, while fiber cement siding, especially Hardie siding products, can go for many years without needing to be repainted. In fact, it simply needs to be washed with a hose every so often — saving you time, effort and expenses.
When it comes to choosing a home siding option, it's important to consider safety issues. Damage due to fire and water can be a major concern. So, how do cedar siding and fiber cement siding compare?
Because it's a natural wood, cedar burns easily, especially if it has not been treated to resist flames.
If making a green choice matters to you, be assured that cedar siding and fiber cement siding are equally eco-friendly. Cedar is a natural wood and is therefore biodegradable, while fiber cement's makeup (sand, cement, cellulose fibers and water) will not release toxins into the environment, making it a sustainable option. And because it's so durable, fiber cement siding has less of a footprint than other, less durable manmade materials, like vinyl.
As you choose the right siding option for your home, be sure to consider all the elements that can affect your decision for years to come. Consider long-term maintenance needs and expenses. Remember that although cedar siding can be a beautiful option, it also requires careful, frequent maintenance to retain its durability and attractiveness.
Fiber cement siding, by comparison, is less costly to install and less costly to maintain. It is simple to care for, long-lasting and attractive, mimicking the look of real wood without being subject to the damages that real wood can incur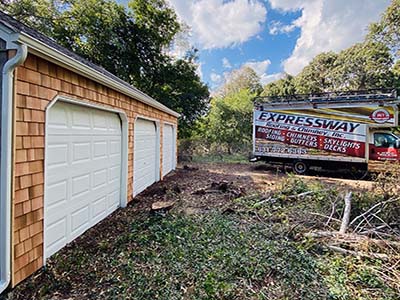 We care about helping you make the right decisions for your home exterior needs. We maintain the high standards of installation, customer service and reliability set by the Hardie® company. You can rest assured that our expert installation team will make your home look its very best.
Let us answer all your questions about fiber cement siding installation for your home, as well as the full benefits of the amazing James Hardie® warranty — among the best in home construction today. 
We at Expressway would love to handle all of your siding and home needs. However, we know that there are a ton of options to choose from. So why should you choose us? We can easily talk about our own quality – and the 'Expressway advantage'. 
However, we like to let our work speak for itself. Feel free to check out our reviews look at some of our previous work. We know that after you take a look, you will see just how much pride we take in each project.
For more information feel free to fill out the form below or give us a call at 631.772.6363.
LONG ISLAND'S SIDING REPAIR & INSTALL EXPERTS
The Most Dependable & Affordable Siding Contractor On Long Island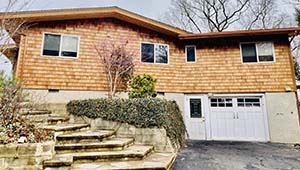 Expressway has your cedar siding needs covered! If you're looking for a local siding company that won't hide behind bad service – then you'll appreciate our free, fair and honest quotes and work. In fact, our business model was designed around fairness, openness and honesty – for our fellow homeowners across Nassau & Suffolk. Trust in Expressway – just like our long list of Long Island homeowners that have availed themselves of our residential siding services over the last 20 years.
Broken Vinyl Siding Repairs LI
Dutch Lap Siding Near Nassau
Vinyl Shake Siding Near Nassau
Vinyl Siding Contractor In LI
Vinyl Siding Repairs In Suffolk
LI Flat Metal Siding
Vinyl Siding Replacement Near Nassau
LI Siding Inspections
Garage Siding On Long Island
Siding Restorations In Nassau
Vinyl Siding Installs In Suffolk
LI Siding Repairs
New Siding Installations Near Nassau
Siding Contractor Long Island
Fascia Repairs In Suffolk
Siding Contractor Near LI
Siding Installs In Suffolk
Gutter Flashing Repair On Long Island
Siding Repairs On Long Island
LI Flashing Repairs
Vinyl Siding Replacements In Nassau
Siding Waterproofing On Long Island
Vinyl Siding Installs On Long Island
Cracked Vinyl Siding Repair In LI
LI Shed Siding
Asphalt Siding Installs On Long Island
Vinyl Siding Contractor Long Island
Cedar Siding Installation On Long Island
Siding Leak Detection Near Nassau
Siding Leak Repairs In LI
Vinyl Siding Repairs On Long Island
Siding Underlayment Repair On Long Island
LI Slate Siding
Brick Siding Repairs LI
Storm Damage Repair In Suffolk
Vinyl Siding Repairs In Suffolk
Vinyl Tile Siding In Suffolk
Vinyl Siding Replacement Near Nassau
LI Vinyl Siding Installs