HOUSE SIDING REPAIR SERVICES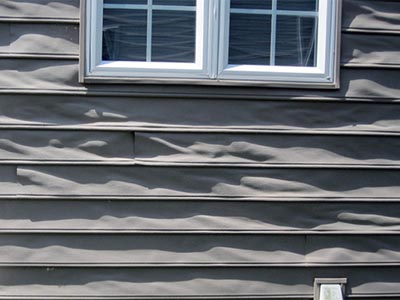 Signs You Need Your Siding Repaired
We at Expressway Roofing & Chimney have all your siding needs covered! Anything from a full installation to repair you can rest easy knowing that the job will be finished correctly and on time. Siding is a vital part of your home.
Some signs that your siding needs to be replaced are:
Discolored patches that are darker or lighter than surrounding wood, or have a white, yellow, or purplish hue

Texture changes where the wood appears spongy or cracked
Wood breaking apart or crumbling into sawdust
Faded spots in the siding
Signs of visible rot
Higher than normal energy bills
Cracks and caps in any of the siding, eaves, gutters or soffits
Warping, bubbles or blisters on the siding
When a lot of maintenance is needed
Mold, mildew or fungus is now evident
Mold, mildew and fungus derive from moisture accumulation in the siding. Mold growth affects your health. It releases toxic gases that cause breathing problems. Mold will damage your siding look and the home's exterior appeal. With time, the mold will grow inside the house.
Opting for siding repair will cost you more money. This is because you'll also have to repair other interior parts of your house.  New (or repaired) siding will keep you safe from mold threats. There will be a boost to your home's curb appeal.
Why Are Siding Repairs Important?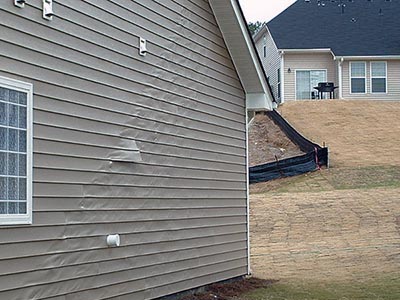 Any cracks, gaps, or outright holes in your siding are more than just a cosmetic issue. They can let water into the interior of your wall, where it will fester and cause moisture damage issues such as rot, mold, and mildew. This kind of damage not only threatens the structural integrity of the house, it can actually be hazardous to your health and water damage mitigation is very frustrating and costly. Gaps also let in pests such as rats and termites, which can have similar negative effects on the well-being of both your house and your family.
This is something that we could go on and on about. However, the biggest items that we will touch on is the fact that siding protects the interior of your home from the exterior elements. Namely water, which once inside your home will cause issues and costly repairs. Siding repairs do offer the homeowner the ability to return some of the curb appeal and flair to their home.
Are your heating and cooling costs going up even though your usage hasn't changed? If you notice cool drafts near walls and windows, or coming from light switches and electrical sockets, damage to your siding could be the culprit that's driving up your energy bill. A professional handyman can help you determine the exact problem, but if it's related to your cladding, replacing it with energy-efficient, insulated vinyl siding can save you a lot of money in the long run.
Choosing Expressway For Siding Repairs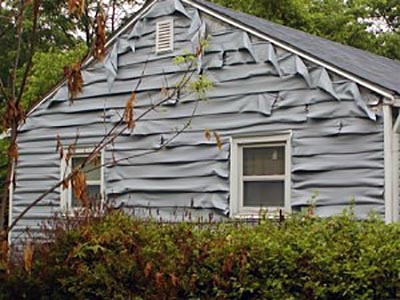 While these are just some of the signs that your homes siding will need to be replaced, we do suggest having an expert come out and take a look. This can help prevent major damage to your home later on down the road. Which we promise, will be much more costly then having this repaired now.
We at Expressway would love to handle all of your roofing and other home needs. However, we know that there are a ton of options to choose from. So why choose us? We could talk about quality and the Expressway advantage. However, we let our work speak for it self. Feel free to check out our reviews or even look at some of our previous work. We know that after you take a look, you will see just how much pride we take in each project. For more information feel free to fill out the form below or give us a call!
LONG ISLAND'S SIDING REPAIRS & INSTALL EXPERTS
The Most Dependable & Affordable Residential Siders On Long Island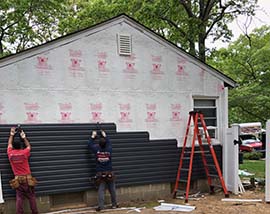 We at Expressway Roofing & Chimney have all of your siding needs covered! 
Our free, fair and honest quotes are completely transparent. In fact, our business model was designed around that concept of fairness, openness and honesty – just for our fellow homeowners across Nassau and Suffolk counties. Don't do business with a roofer that's not clear in what they need to get the job done. Trust in Expressway Roofing & Chimney just like our
long list of Long Island homeowners
that have dealt with our residential roofing services over the last 20 years.
Broken Vinyl Siding Repairs LI
Dutch Lap Siding Near Nassau
Vinyl Shake Siding Near Nassau
Vinyl Siding Contractor In LI
Vinyl Siding Repairs In Suffolk
LI Flat Metal Siding
Vinyl Siding Replacement Near Nassau
LI Siding Inspections
Garage Siding On Long Island
Siding Restorations In Nassau
Vinyl Siding Installs In Suffolk
LI Siding Repairs
New Siding Installations Near Nassau
Siding Contractor Long Island
Fascia Repairs In Suffolk
Siding Contractor Near LI
Siding Installs In Suffolk
Gutter Flashing Repair On Long Island
Siding Repairs On Long Island
LI Flashing Repairs
Vinyl Siding Replacements In Nassau
Siding Waterproofing On Long Island
Vinyl Siding Installs On Long Island
Cracked Vinyl Siding Repair In LI
LI Shed Siding
Asphalt Siding Installs On Long Island
Vinyl Siding Contractor Long Island
Cedar Siding Installation On Long Island
Siding Leak Detection Near Nassau
Siding Leak Repairs In LI
Vinyl Siding Repairs On Long Island
Siding Underlayment Repair On Long Island
LI Slate Siding
Brick Siding Repairs LI
Storm Damage Repair In Suffolk
Vinyl Siding Repairs In Suffolk
Vinyl Tile Siding In Suffolk
Vinyl Siding Replacement Near Nassau
LI Vinyl Siding Installs