METAL Siding RepairS & Installations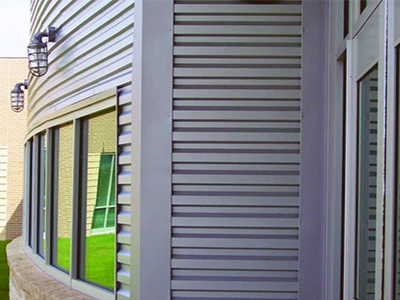 New Metal siding Installations
You may be surprised to learn that steel siding is actually an amazing siding material to choose for the exterior of your home. Many of the same reasons why commercial buildings are often sided with steel are similar to why a residential home can also benefit. With a growing number of different steel siding manufacturers making this siding with residential use in mind, there is a huge variety of different colors and designs to choose from as well.
If you're siding a new home/addition or want to reside your house, steel may be one of the premier materials you could choose for your house siding. If you're ready to do a remodel on your home, new siding should be at the top of the list. Siding is one of the first things people notice and it has a major impact on your home's overall architectural style.
Why Opt For Metal Siding?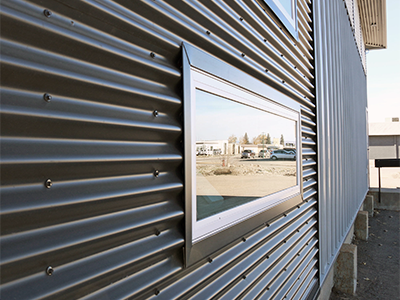 Metal is one of the toughest materials available on the market. It's able to resist damage from almost anything. From the toughest environments and weather conditions to dents from life happening around the house, metal panels will stand up well to the tests of time. Installing metal siding on your home can do two things for the interior: improve the comfort level and lower the heating and cooling bills. Metal has highly reflective qualities, meaning it will reflect the sun's UV rays rather than absorbing them. This means less running your air conditioner in the summer months, which also means saving you more money! It's no surprise that metal panels can modernize any home.
With tons of colors and finishes to choose from, plus the ability to select a panel profile that suits your design taste, metal siding is stylish and here to stay. Metal panels in general are one of the most environmentally-friendly materials choices out there. Choosing the utilize metal siding in your build can help you take the next step towards a more eco-friendly world. Most available sheet metal is 100% recycled and LEED qualified!
Metal does come with a higher upfront cost compared to other siding materials. The cause of the higher cost is usually the result of a higher-quality material and installation costs. However, due to its warranties and longevity, most find the upfront investment to be well worth it.
Metal Siding Is A Huge Value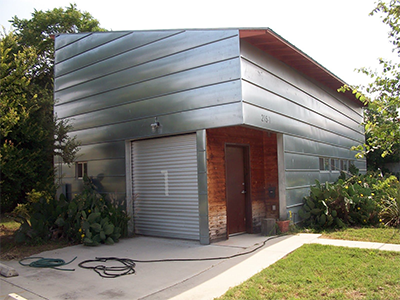 It is obviously best to look for a siding material that is durable and can withstand any weather condition – no matter where you live. It should be easy to clean and not easy to damage. It's a bonus if it can help with reducing your electric bills. Metal siding checks those boxes. 
Desired appearance is always subjective but many agree that metal siding adds curb appeal. It comes in many different colors, profiles and styles. Metal siding can also be made to mimic the look of other materials such as wood.
The cost also varies depending on what gauge metal you use. The price increases as the gauge number decreases. A lower gauge number is more expensive because the metal is thicker which makes the siding even more durable as we mentioned earlier. Most metal siding comes in 24 or 26-gauge. Since lower gauge numbers indicate thicker material, a 24-gauge metal is thicker and also more expensive than a 26-gauge metal.
If you're looking to install new siding on your home, consider using steel or metal. It's more durable than vinyl and can withstand almost any weather condition. It also has many energy-efficient properties. So much so that it can reduce the workload for your HVAC system. Lastly, steel siding is easy to maintain. That's because they can resist warping, fading, chipping, and cracking. This means you do not have to spend most of your weekends repairing your siding. An occasional rinse, and you are good to go.
Benefits & Overall Metal Siding Appeal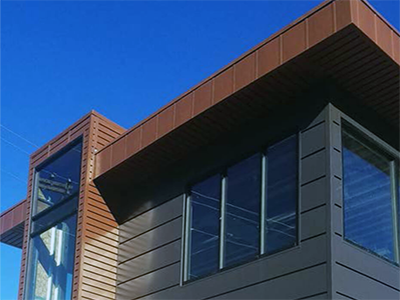 Metal siding is becoming a more and more popular option for siding — for good reason. Metal siding, also called wall cladding, is a system of
Metal panels that cover the exterior side of a wall of a residential or
commercial building. While metal siding is most commonly made from steel, you can also find metal siding panels made from copper, zinc or aluminum.
Metal is consistently regarded as being one of the best types of siding. Though it has many benefits, its durability, low maintenance, fire resistance and curb appeal are the most common reasons why it's chosen over other materials. If you're wondering what material you can use, we recommend using metal siding. Here are some reasons:
Durability
Low Maintenance
Energy Efficient
Eco-Friendly
Sustainable
Better Curb Appeal
Insect Repellent
Fire Resistance


Metal is one of the strongest siding products available. This type of siding can withstand the worst weather conditions including heavy rain or snowfall and gale-force winds and remain intact. With proper installation of metal siding, the maintenance needed is very minimal other than cleaning it occasionally to keep up with its appearance.
A metal-clad home makes it more resistant to catching on fire. This makes it an excellent siding choice for areas that are prone to wildfires or lightning storms.
One of the biggest appeals of metal siding is the fact that it's extremely low maintenance compared to other types of materials. Materials like vinyl siding often require annual power washing and sometimes even cleaning products to remove stains and other imperfections. After metal siding is properly installed, homeowners can typically get by with just a quick annual inspection. Metal doesn't promote mold or fungus growth and doesn't absorb or retain moisture either, so no need to worry about those issues. Pests love to hide under siding, however, unlike other materials, metal is not insect-friendly.
Regularly worrying about and spraying for bugs, carpenter bees, termites, and other pests is a non-issue with metal siding. Metal can be more prone to showing imperfections like dents. However, this issue can usually be avoided if a higher gauge, or thickness of the metal, is chosen.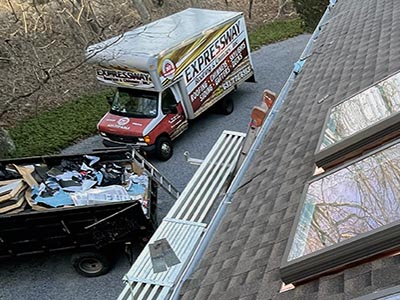 Ready to take the next step in ordering siding for your home or building? Our team of experts can help you select the panel best suited for your home and its environment, plus help you choose the right gauge and color/finish specific to your design tastes. Also called "wall cladding," a siding is attached to the exterior side of a house. Its purpose is to protect your home from external elements like the sun, rain and snow. You cannot go wrong with installing metal siding for your house. 
We at Expressway would love to handle all of your siding and home needs. However, we know that there are a ton of options to choose from. So why should you choose us? We can easily talk about our own quality – and the 'Expressway advantage'. 
However, we like to let our work speak for itself. Feel free to check out our reviews look at some of our previous work. We know that after you take a look, you will see just how much pride we take in each project. For more information feel free to fill out the form below or give us a call at 631.772.6363.
LONG ISLAND'S SIDING REPAIR & INSTALL EXPERTS
The Most Dependable & Affordable Siding Contractor On Long Island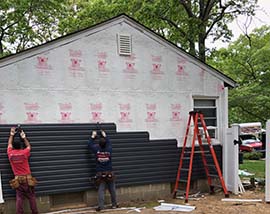 We at Expressway Roofing & Chimney have all of your vinyl, metal, cedar and veneer siding needs covered! If you are looking for a Long Island roofing company that won't hide behind bad customer service then you will appreciate our free, fair, transparent and honest quotes and work. In fact, our business model was designed around that concept of fairness, openness and honesty – for our fellow homeowners across Nassau and Suffolk counties. Trust in Expressway Roofing & Chimney – just like our long list of Long Island homeowners that have availed themselves of our residential siding services over the last 20 plus years.
Broken Vinyl Siding Repairs LI
Dutch Lap Siding Near Nassau
Vinyl Shake Siding Near Nassau
Vinyl Siding Contractor In LI
Vinyl Siding Repairs In Suffolk
LI Flat Metal Siding
Vinyl Siding Replacement Near Nassau
LI Siding Inspections
Garage Siding On Long Island
Siding Restorations In Nassau
Vinyl Siding Installs In Suffolk
LI Siding Repairs
New Siding Installations Near Nassau
Siding Contractor Long Island
Fascia Repairs In Suffolk
Siding Contractor Near LI
Siding Installs In Suffolk
Gutter Flashing Repair On Long Island
Siding Repairs On Long Island
LI Flashing Repairs
Vinyl Siding Replacements In Nassau
Siding Waterproofing On Long Island
Vinyl Siding Installs On Long Island
Cracked Vinyl Siding Repair In LI
LI Shed Siding
Asphalt Siding Installs On Long Island
Vinyl Siding Contractor Long Island
Cedar Siding Installation On Long Island
Siding Leak Detection Near Nassau
Siding Leak Repairs In LI
Vinyl Siding Repairs On Long Island
Siding Underlayment Repair On Long Island
LI Slate Siding
Brick Siding Repairs LI
Storm Damage Repair In Suffolk
Vinyl Siding Repairs In Suffolk
Vinyl Tile Siding In Suffolk
Vinyl Siding Replacement Near Nassau
LI Vinyl Siding Installs