Fiber Siding Repair & Installations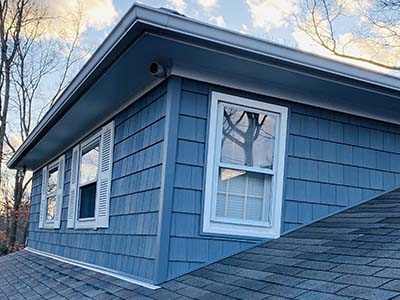 What Are The Benefits of Fiber Siding?
Fiber cement is made of water, sand, Portland cement, and wood pulp or fiber. When mixed, a durable material is created that can be molded into different textures. The water is used to dissolve the wood fibers, activate the cement, and help it harden. Wood pulp keeps the fiber cement siding planks flexible. Sand is mixed in to give the cement a thicker texture. The cement binds all the ingredients together. Once a slurry has formed, the mixture is put into molds that form planks. The molds are dried and durable boards are created.
All of the benefits of fiber cement combine to give it one of the best benefits in the siding industry-longevity. Fiber cement is a composite of cement, wood fiber and other additives which are not only sustainable materials, but ones that withstand the weather, wear, and insects compared to other siding materials. While the upfront costs of fiber cement may be higher compared to vinyl or aluminum, pro-rating those on an annual basis over 50+ years actually makes for a more affordable deal. In fact, a study recommended fiber cement as the best blend of cost, durability, and environmental impact.
One of the great things about fiber cement is that the material is low maintenance. There is no regular pressure washing needed like there is with vinyl and aluminum.
Fiber Versus Other Siding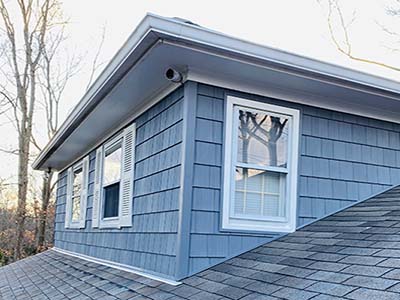 Fiber cement looks like wood but doesn't act like it. This is a good thing when it comes to absorbing moisture from rain, snow, and heat and humidity. Wood will traditionally swell, warp, and rot which significantly limits its life span but that is not an issue with fiber cement.
The strength and moisture resistance of fiber cement is what makes it a great choice for tornado and hurricane prone areas. Wind-blown objects and excessive gusts can completely destroy vinyl or aluminum siding whereas fiber cement is more durable. This is great not only for homeowners, but contractors who do not need to use valuable time and resources making siding repairs for their customers. Fiber cement siding is very prominent on the Atlantic Coast and the Great Plains among many other regions. 
The fire resistance of fiber cement is great for the safety of your home and family but to get the most out of the investment the product has to last awhile. Because of how it is made, the fiber cement is impact resistant to damage by hail. Extreme heat and humidity can also wreak havoc on some siding types but the makeup of fiber cement makes it dimensionally stable and protected from being damaged in these conditions.
The main benefit of fiber cement is the options it affords. From the various styles and colors available to widths and more. Another great option is having the fiber cement siding come primed only (paint on site) or in the finished colors. Painting the siding can be a great way for homeowners to save on some material costs. 

More Pluses of Fiber Cement Siding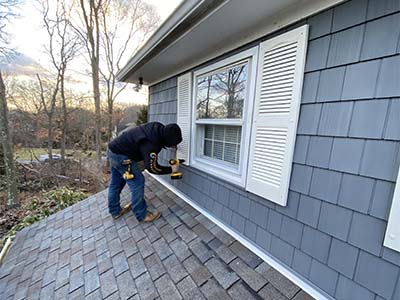 There are many benefits that fiber cement siding offers. It's the top siding chosen by homeowners in the United States. Here are some reasons why:
Fiber cement siding doesn't have to be cleaned as often as other types of materials. Any dirt and debris can be removed by simply spraying it with your garden hose and using a soft cloth, sponge or brush to wipe clean. No harsh chemicals or power washing are needed or recommended. Since there are no seams that overlap, dirt and moisture will not accumulate in the crevices. This also provides your home with a layer of protection from the growth of mold and mildew.


There are many colors available to coordinate with your home's exterior color palette. It comes pre-painted and can significantly improve the curb appeal of your home. 


Fiber cement is a material that does not warp, crack or dent easily. It can withstand very hot and sub-freezing temperatures. Fiber cement siding holds up against heavy rain, hail, sleet, snow and windstorms. 


Fiber cement siding will help seal your home due to its ability to resist warping and other external damage. You can keep cool air in during the summer and warm air in during the winter. 


The composition of fiber cement siding is mostly inflammable. Its noncombustible properties make it a favorite for insurance companies who offer discounts to homeowners whose home is protected with fiber cement siding.


It also protects against rotting and pest infestation. 


Installing fiber cement siding is a wise investment that yields a good return. 


There are other siding materials to choose from. Overall, fiber cement siding gives homeowners the best value long-term. Before you have any siding installed, always weigh the pros and cons.


Brick and stone siding are resistant to rotting, fire, and insects just like fiber cement siding. The downside is that it's heavier and more costly than fiber cement siding.


Vinyl is a decent choice, but not the best. Although it is lightweight and low-maintenance, vinyl melts in fires. It also cannot withstand high winds.


Aluminum is easy to maintain and resistant to rotting. On the other hand, it dents easily on impact.


Stucco is a cement-based material that is fire-resistant and very durable due to its thickness. However, it is vulnerable to water damage if not kept moisture-free. Stucco requires a special process to clean and repaint.


Wood siding is lightweight, visually appealing and easy to cut. However, it is vulnerable to fire, insects, splitting and rotting.
Options, Options & More Siding Options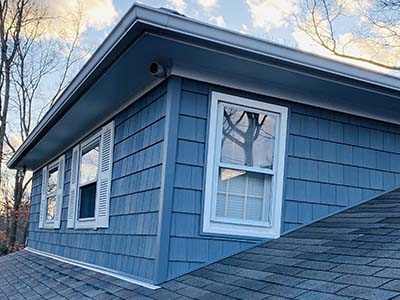 Fiber cement offers a striking beauty just in the material makeup alone. Compound the natural looks with advanced manufacturing methods and the options for curb appeal aesthetics are bountiful. For example, Expressway features many colors and textures to choose from. 
Customers can enjoy a stucco or wood grain look (among others) at a fraction of the price and much less maintenance. Try as they might materials like aluminum or vinyl simply cannot emulate the look of wood. Whether it be from their natural gloss or the inability to print realistic grains on their surface faux wood vinyl siding is rarely believable far away, let alone up close. Fiber cement, on the other hand, is perhaps the most realistic option for a wood look without wood staining, repainting, and sealing. The texture of fiber cement has a natural wood feel and the grains can be produced as if they were formed over the years in the forest.
In addition to the various colors and textures of the material itself, there are plenty of options in the actual shape and installation types for fiber cement board. Expressway features lap siding, shingles and shakes, or panels that can be installed as is or for the board and batten look. These aesthetics can be mixed and matched within the same project to create a totally unique look from a popular material. Fiber cement soffits and trim also add to the one-of-a-kind look that the product can create.
Ready to Install Fiber Cement Siding?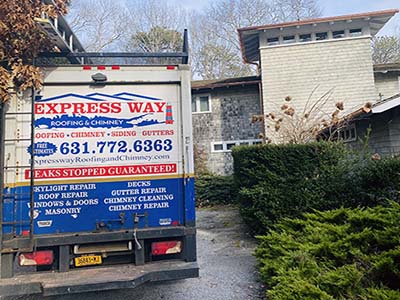 Are there signs that it's time to replace your siding? Along with your roof, your siding is critical to protecting your home from the elements and protecting the integrity of your home. The following are signs that it may be time to replace your siding:


Rotting: If you have wood siding, look for sections that have begun to crumble. This is a sign that moisture has penetrated your siding. If left untreated, the rot will lead to further decay.


Warping: Examine your home from multiple angles to check if there are portions of your siding that are no longer flat. Serious damage may be present underneath the surface.


Cracking: Visible cracks on any siding material create entry points for moisture and pests. You may want to consult a professional to inspect the severity of your cracks to determine if total siding replacement is necessary.


High Energy Bills: A surge in your monthly utility bills may indicate that air is passing through your home. If you don't find leaks in windows or doors, your siding is the most likely culprit.


Interior Moisture: If you find traces of moisture, mold, or mildew inside of your house, be sure to investigate the condition in the same area on the exterior.


If your old wood, vinyl or aluminum siding is showing signs that it needs replacing, choose fiber cement siding, we know how to properly install fiber cement siding and give our customers the best workmanship possible. Our experienced contractors can assist in the style and color of fiber cement siding for a coordinated look.
Contact us today for a free consultation. Feel free to check out our reviews look at some of our previous work. We know that after you take a look, you will see just how much pride we take in each project. For more information feel free to fill out the form below or give us a call at 631.772.6363.
LONG ISLAND'S SIDING REPAIR & INSTALL EXPERTS
The Most Dependable & Affordable Siding Contractor On Long Island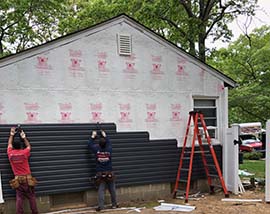 We at Expressway Roofing & Chimney have all of your vinyl, metal, cedar and veneer siding needs covered! If you are looking for a Long Island roofing company that won't hide behind bad customer service then you will appreciate our free, fair, transparent and honest quotes and work. In fact, our business model was designed around that concept of fairness, openness and honesty – for our fellow homeowners across Nassau and Suffolk counties. Trust in Expressway Roofing & Chimney – just like our long list of Long Island homeowners that have availed themselves of our residential siding services over the last 20 plus years.
Broken Vinyl Siding Repairs LI
Dutch Lap Siding Near Nassau
Vinyl Shake Siding Near Nassau
Vinyl Siding Contractor In LI
Vinyl Siding Repairs In Suffolk
LI Flat Metal Siding
Vinyl Siding Replacement Near Nassau
LI Siding Inspections
Garage Siding On Long Island
Siding Restorations In Nassau
Vinyl Siding Installs In Suffolk
LI Siding Repairs
New Siding Installations Near Nassau
Siding Contractor Long Island
Fascia Repairs In Suffolk
Siding Contractor Near LI
Siding Installs In Suffolk
Gutter Flashing Repair On Long Island
Siding Repairs On Long Island
LI Flashing Repairs
Vinyl Siding Replacements In Nassau
Siding Waterproofing On Long Island
Vinyl Siding Installs On Long Island
Cracked Vinyl Siding Repair In LI
LI Shed Siding
Asphalt Siding Installs On Long Island
Vinyl Siding Contractor Long Island
Cedar Siding Installation On Long Island
Siding Leak Detection Near Nassau
Siding Leak Repairs In LI
Vinyl Siding Repairs On Long Island
Siding Underlayment Repair On Long Island
LI Slate Siding
Brick Siding Repairs LI
Storm Damage Repair In Suffolk
Vinyl Siding Repairs In Suffolk
Vinyl Tile Siding In Suffolk
Vinyl Siding Replacement Near Nassau
LI Vinyl Siding Installs