CHIMNEY FLASHING REPAIRS & INSTALLATIONS
If you are looking at chimney flashing either for repair or installation then you have come to the right place! We at Expressway have years of experience with both repair and installations for chimney flashing.
What is Chimney Flashing?
Chimney flashing creates a waterproof seal to protect your chimney and roof from water damage and prevents water from getting in. This is made up of two major parts, counter flashing and step flashing.
Signs you need repairs
Most flashing jobs can last up to 30 years. The life span of your flashing has several factors. Such as shape, size, materials used and your location. Lets take a look at some signs that you need to repair your chimney flashing.
Leaking from the inside or outside of the chimney
Sounds and evidence of dripping, like puddles
Discolored bricks
Rust stains
Water stains on interior ceilings or walls adjoining the chimney
Visible gaps in the caulking around the flashing
Why Choose Expressway
We at Expressway would love to handle all of your chimney flashing and other home needs. However, we know that there are a ton of options to choose from. So why choose us? We could talk about quality and the Expressway advantage. However, we let our work speak for it self. Feel free to check out our reviews or even look at some of our previous work. We know that after you take a look, you will see just how much pride we take in each project. For more information feel free to fill out the form below or give us a call!
We Are Dependable & Affordable Chimney Contractors on Long Island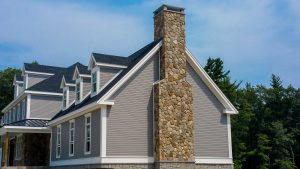 We at Expressway have all of your chimney needs covered!
If your chimney is in need of repairs or need be completely replaced then you are in need of a chimney company you can trust.
However, choosing the right company is hard. In fact, there seems to be more chimney companies these days than 7 Elevens on Long Island. Thus, talking to so many in order to find  the right one is going to be so much harder. Expressway is the name you should keep in mind. Get three bids, but make sure one of them is Expressway.