ROOFING REPAIR & INSTALLATION SERVICES
Expressway Roofing offers roof inspection in East Hampton NY 11937. Our roof inspection includes a visible inspection of the exposed roof areas of the roof. The roof inspector will identify the type of roof, the condition, and will evaluate the soundness of the roof structure.
Expressway Roofing will investigate and report on how many layers of shingle are installed, and estimate the remaining life of the shingles.
For slate roof inspections, they will inspect for the condition and missing or damaged tiles. They will also report as to whether sealer maintenance is required. These type roofs are usually very old and require yearly sealer maintenance.
For wood shakes and shingle roof inspection includes a visible inspection of the type of roof for missing, cracked, split, curled or damaged shingles, and the overall condition of the roof.
We also have flat roof inspections, to evaluate whether or not the roof is safe to mount. If the roof is accessible, we will inspect for: cracked, blistered, eroded, split, punctured, or torn sections. They will also look for open seams, water ponding and low points in the roof where water may accumulate.
Expressway Roofing will inspect the roof flashings for type and condition. Especially the chimney and valley flashings. The failure of roof flashings is a major source of roof leaks.
They will also inspect the vents and hatches if accessible. These two areas are also a major source of water penetration, therefore our inspectors will examine these areas for condition and for signs of a water problem.
The roof inspector will inspect for condition and signs of leaks. These two items are notorious for causing roof leaks and will be inspected with water problems in mind.
Expressway Roofing does a thorough roof inspection in East Hampton NY 11937. Call today for a free estimate at (631) 772-6363
The Most Dependable & Affordable Residential Roofers on Long Island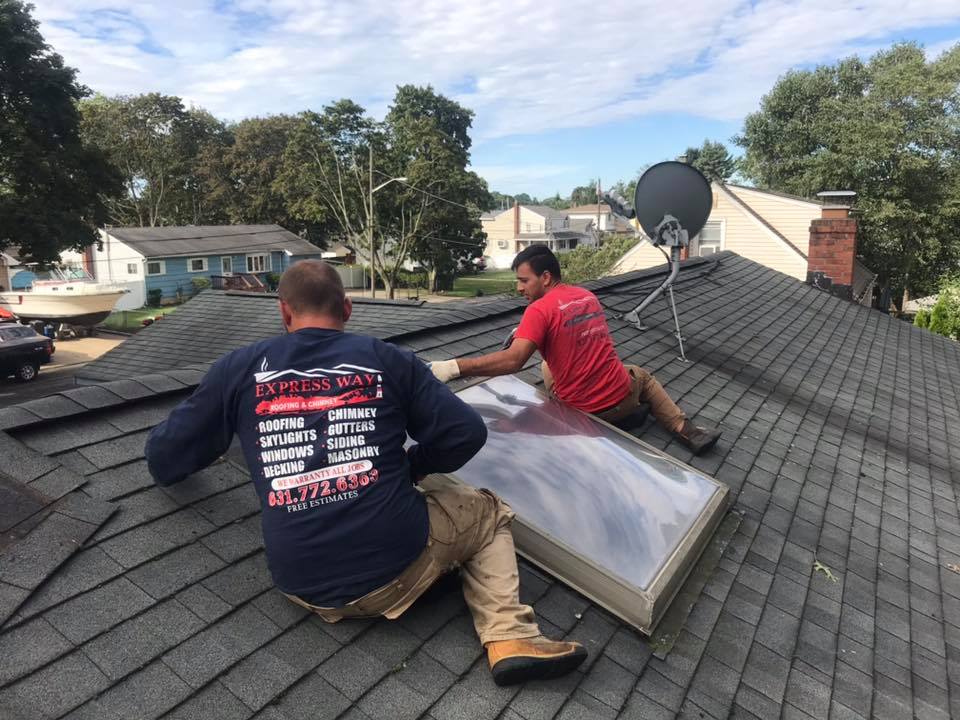 We at Expressway Roofing and Chimney have all of your roof needs covered!
Are you looking for a roofing company that won't beat around the bush with bad customer service?  Our quotes are completely transparent. In fact, our business model is for and by homeowners across Long Island! Don't do business with a roofing company that is not completely clear in what they need to get the job done. Trust in Expressway Roofing and Chimney just like our long list of Long Island homeowners that have dealt with our residential roofing services over the last 20 years.