CHIMNEY WATERPROOFING SERVICES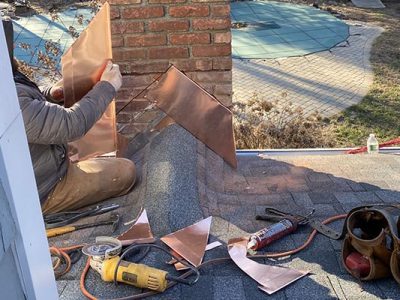 What Is Chimney Waterproofing?
If you are looking at chimney waterproofing then you have come to the right place! We at Expressway have years of experience with chimney waterproofing with an array of chimneys.  Waterproofing a chimney is just what it sounds like. Preventing water from damaging or deteriorating your chimney. However, if you notice that your chimney already has damage such as cracks, voids or missing mortar then it will need repaired first. 
It's All About Deflecting Water
All masonry chimney construction materials, except stone, will suffer accelerated deterioration as a result of prolonged contact with water. Masonry materials deteriorate quickly when exposed to the freeze/thaw process, in which moisture that has penetrated the materials periodically freezes and expands causing undue stress. Water in the chimney also causes rust in steel and cast iron, weakening or destroying the metal parts. While most stone is not affected by water penetration, large amounts of mortar are required to bond the stone together properly. Therefore, a stone chimney is just like a brick chimney and should also be protected from the effects of water penetration.
Prevent Water Damage
Chimney caps, also called rain covers, are probably the most inexpensive preventive measure that a homeowner can employ to prevent water penetration and damage to the chimney. Chimney caps have long been recognized as an important chimney safety and damage prevention component. When a professional chimney sweep recommends that your chimney needs to be waterproofed, it is vulnerable to leaks. If the structural integrity of your chimney is no longer sound due to weakening caused by water penetration, your professional will recommend a rebuild.
There are four major causes that lead to the chimney's end of life and these include its original construction, frequency of usage, maintenance and the weather. If there is faulty initial construction, frequent usage over many years, or a lack of annual maintenance and cleanings, your chimney will start to degrade. This usually means the mortar is crumbling or bricks are cracking or both. Your chimney is the only part of the rooftop that is not protected by the roof. The brick is exposed to all types of weather in your area. Exposure to the elements such as an infiltration of water or an area that freezes and thaws often throughout the year will cause wear on your chimney.  If it degrades the mortar completely, it will require a chimney rebuild.
Chimney Waterproofing Installation
During this process we will inspect your chimney to check for any damage that will not be covered by the water proofing. As we said in the above paragraph, cracks and voids will need to be repaired first. Once we do our inspection then we will proceed with the process of waterproofing your chimney. Waterproofing is applied with a sprayer. On the vertical walls, i.e. most of the chimney, waterproofing should be applied from bottom to top because as the waterproofing material comes out of the sprayer it runs down the chimney and gets absorbed into the chimney below the area being working on. It sort of amounts to doing it twice. Obviously, the top needs extra attention or it'd only get one pass. And as mentioned before, I'd do it twice. After you finish about 10 minutes' worth, do it again just to make sure the whole structure gets a good soaking.
Special consideration should be given to breast walls, re-application, the crown, the flashing area and the mortar joints. The breast wall is where a chimney doesn't go straight down to the ground, rather goes around something (almost always a fireplace.) They aren't usually outright horizontal areas, a 30°-60° angle is pretty common. These areas should get different treatment. 
Why Choose Expressway For Chimneys?
We at Expressway would love to handle all of your roofing and other home needs. However, we know that there are a ton of options to choose from. So why choose us? We could talk about quality and the Expressway advantage. However, we let our work speak for itself. Feel free to check out our reviews or even look at some of our previous work. We know that after you take a look, you will see just how much pride we take in each project. For more information feel free to fill out the form below or give us a call at 631.772.6363.
LONG ISLAND'S CHIMNEY REPAIR & INSTALL EXPERTS
The Most Dependable & Affordable Chimney Contractors On Long Island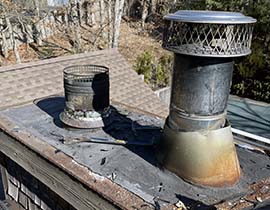 Expressway Roofing & Chimney has your chimney needs covered! 
If you're looking for a Long Island chimney company that won't beat around the bush with awful customer service – our free, fair and honest quotes are completely transparent. Our business model was designed around the concept of fairness, openness and honesty for our fellow homeowners across Nassau and Suffolk counties. Trust in Expressway Roofing & Chimney just like our
long list of Long Island homeowners
that have dealt with our residential roofing services over the last 20 years.