EAST HAMPTON CHIMNEY SERVICES
EAST HAMPTON CHIMNEY REPAIRS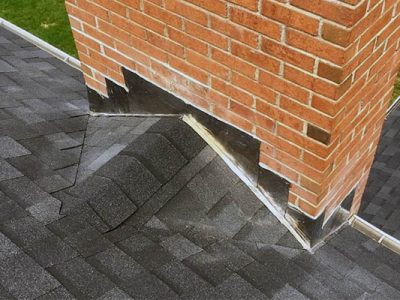 Servicing Chimneys Out East for 22 Years
Expressway Chimney offers chimney cleaning in East Hampton, NY 11937 for over 20 years. As a leading chimney sweep in East Hampton, our team understands what it takes to deliver the best results, least hassle and some of the best prices around. Proper care and maintenance to your chimney is a critical element in home ownership. Our tough weather makes having an operating fireplace and chimney an almost necessity!
Have you been noticing some of the clear signs of damage to your chimney? Are leaks causing water to end up on the floor of your firebox? Do you see crumbling mortar around the chimney on the roof? Have bricks become loose, or are sections of brick missing? These and many other signs tell you that your chimney needs to be inspected and repaired or rebuilt.
In its natural state – a chimney is a tall, solid, strong structure. As it ages, it can fall into disrepair. The average homeowner may not be able to spot all the signs of chimney damage or know how dangerous some of them are. 
There are three primary major concerns with a damaged chimney:
Severely damaged bricks and mortar can cause a chimney to lean to one side. If not addressed, this problem can lead to a collapse of some or all of the structure.  Cracks in mortar joints and decaying bricks allow water to infiltrate the system, where it will continue its cycle of damage until a serious problem exists.  If the inside of the chimney structure is compromised, extreme heat from fires will be able to contact walls and other home building materials and increase the risk of fire.
You can prevent these unwanted scenarios by scheduling annual chimney inspections followed by professional chimney repair or rebuilding.  Our technicians are certified by the Chimney Safety Institute of America and the National Fireplace Institute to perform repair and maintenance work on all styles and types of chimneys. You can count on us to restore your chimney to a safe, fully operational state.
Chimney Repair Masonry Services We Do
Chimney rebuilding: Severely damaged chimneys are not safe to use. Our expert chimney technicians have years of experience performing partial and complete chimney rebuilds to quickly put a stop to the decomposition process. We'll assess the damage and determine the correct solution to make your chimney safe again.
Chimney crown rebuilds: The cement chimney crown that seals off most of the flue opening at the top of the chimney is prone to cracking with age. When rainwater or water from melting snow enters the cracks, it freezes and expands, leading to further damage. Once moisture has permeated the system, it's difficult to fix without some degree of chimney crown rebuilding. Call us to repair all levels of chimney crown damage.
Tuckpointing: If the bricks and mortar of your chimney are beginning to crumble and fall away, the solution may be a process called tuckpointing.  This project involves adding fresh, strong mortar to open areas in the masonry in order to bring new strength to the chimney and prolong its life.
Parging: Over time, the surfaces of smoke chambers can become rough or damaged. When this happens, smoke and gasses fail to efficiently vent up and out of the chimney. We can help this problem through parging, in which we add a stucco-like compound to rough surfaces to smooth them out and restore efficient drafting.
Our expert masonry technicians can help with many chimney repair services including:
Repair of all types of chimney leaks from small to extensive

Repair or replacement of chimney flashing
Complete repair of fireplaces and fireboxes
Chimney liner repair and installation
Cleaning, repair and installation of fireplace throat dampers and top-sealing dampers along with masonry repair and chimney repair and rebuilding,
Expressway offers annual chimney safety inspections and thorough chimney sweep services to keep you chimney clean and safe all year long.


chimney cleaning in East hampton
Fireplace chimney cleaning, Pellet Stove chimney cleaning, woodstove chimney cleaning and oil and fireplace chimney cleaning. We are licensed and insured in Suffolk County. 
Our experts also provide traditional cleaning services, using rods and brushes that snap together to reach all the way up the inside of the flue. We then go to the outside of the chimney to make sure the top is in good shape. We always put down a drop cloth to avoid making a mess. A chimney-vac is run to collect all the soot and debris as the chimney is being swept. The process takes 20 to 45 minutes and we even inspect inside for any deterioration, providing a 21-point condition report.
The buildup of creosote in your chimney is a fire hazard if not cleaned properly. It can ignite and actually cause a chimney fire. Once your liner is cracked, it is a fire hazard and will need to be relined. During our inspection, we evaluate the condition of your liner. If any repairs are needed, we will advise you. If you have a wood-stove insert, we slide it out and clean inside, just like a regular chimney cleaning. Freestanding wood stoves have a pipe that needs to be cleaned as well, and this is no problem for our experts.
Having a clean chimney can lead to increased safety and fire prevention. Hiring a certified chimney sweep is mandatory if your family depends on their safety. The National Fire Protection Agency (NFPA) recommends an annual chimney cleaning to ensure that your fireplace and chimney system are functioning safely and efficiently.  The chimney or venting system of your fireplace, wood stove, gas stove, or pellet stove needs regular maintenance and that's when you should call a professional certified chimney sweep.
For a safe, effective and affordable chimney cleaning in East Hampton, NY, call Expressway at 631.772.6363.
ASK US ABOUT A NEW Chimney!
LONG ISLAND'S CHIMNEY REPAIR & INSTALL EXPERTS
The Most Dependable & Affordable Chimney Contractors On Long Island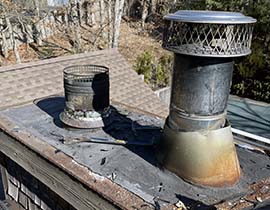 Expressway Roofing & Chimney has your chimney needs covered! 
If you're looking for a Long Island chimney company that won't beat around the bush with awful customer service – our free, fair and honest quotes are completely transparent. Our business model was designed around the concept of fairness, openness and honesty for our fellow homeowners across Nassau and Suffolk counties. Trust in Expressway Roofing & Chimney just like our
long list of Long Island homeowners
that have dealt with our residential roofing services over the last 20 years.
Chimney Leaks Fixed In Suffolk
Suffolk Chimney Caps Installed
New Chimney Boxes In Nassau
New Chimney Flashing Near Suffolk
Suffolk Chimney Repairs
Chimney Flashing Near Nassau
Suffolk Chimney Flashing Replacements
Chimney Repair Contractor In Nassau
Suffolk Chimney Inspections
Chimney Restorations In Nassau
Chimney Sealing Near Nassau
Chimney Flashing Long Island
Suffolk Cap and Crown Repairs
Copper Chimney Flashing Nassau
Suffolk Chimney Flashing Maintenance
Prefab Chimney Repairs Nassau
New Flashing In Nassau
Suffolk New Chimney Installations
Rotted Chimney Flashing Repairs
Suffolk Chimney Contractor
Flue Liner Repairs On Long Island
Storm Damage Repair In Suffolk
Chimney Flashing Roof Repairs In Suffolk
Suffolk Damper Installs
Freestanding Chimney Installs In Suffolk
Suffolk Chimney Repointing
Suffolk Chimney Masons in Nassau