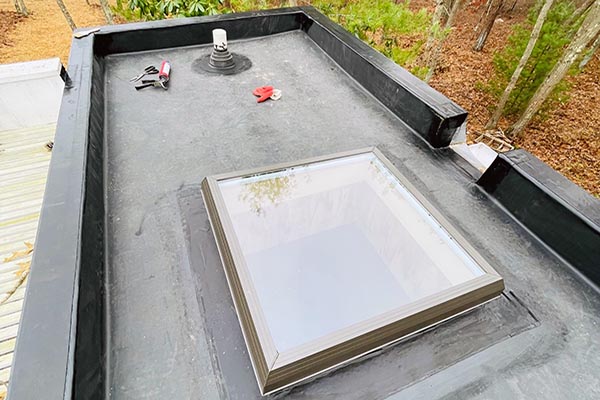 RUBBER ROOF COATINGS FOR WANTAGH, LONG ISLAND
Gaco Roof Coatings
Rubber, Gaco and silicone are all considered part of the 'rubber roof' family. Silicone does a remarkable job at blocking water intrusions. It makes sense to apply silicone to a roof to impede the rot caused by water. There are very few coatings that provide the same long-term protection that 100% silicone roof coatings do. Any complications with 100% silicone coatings is that they provide a surface that is difficult for anything to adhere to. If a 100% silicone roof coating requires repair, the area in question would need to be removed first. A siliconized roof coating can have a percentage of silicone to provide some perks of silicone roof coating without the potential risks. Siliconized roof sealants may be replaced with other elastomeric products in the future as long as the roof coating contains less than 10% silicone. Furthermore, siliconized roof coatings protect a roof against water while still providing the solution of prudent repairs if trouble arise.
Aluminized Roof Coatings
For structure owners and operators, energy efficiency is, becoming, the name of the game. From high-performance insulation to energy-efficient windows and lighting, there are all sorts of roof sealants on the market to help a homeowner keep their utility bills down. But what about the roof? Out of sight/out of mind means that our experts often don't think about how to leverage the roofing systems to help manage the house's overall energy efficiency. However, innovative roofing products not only affects the energy load on your building but helps extend the overall lifespan of the roof system. Reflective roof coatings (and specifically aluminum reflective roof coatings) are a great choice for contractors and building owners looking to improve their building's energy efficiency at a lower price point than the longer-lasting and higher performing acrylic roof sealants. A blend of pure waterproofing asphalt and high grade aluminum pigments (plus the addition of tough fibers). This product will reflect up to 80% of the sun's rays, helping to stall excessive drying and cracking of substrate, thus decreasing leaks. Areas immediately under roof might remain approximately 15-20 degrees cooler in summer. In winter, inside heat is reflected back into the place, thus saving cold weather energy charges.
Composite Roof Coatings
Homeowners might consider several roofing products for their roof replacement project. You will choose between the classic asphalt shingles, the elegant slate tile or even the eco-friendly wood shingles. While these are all roofing materials that are more than worthy of their time, there is a material that isn't the usual fare but still worth looking at: polymer roofs. Polymer roofs are said to be one of the most aesthetically pleasing roofing materials that you could install on the house. This is all thanks to the fact that they could perfectly mimic slate tiles without sacrificing their performance. Apart from that, they also come in a wide range of finish ideas, allowing a homeowner to forge custom blends and colors. While they can look like slate tiles, polymer roofing is fairly easy to craft as they are incredibly lightweight. This helps the owner save time and money on its installation. Another option brought about by polymer roofing products is that they're incredibly resistant against fire and inclement weather. For instance, polymer roofs often achieve a Class A fire rating from professionals and could even resist winds that rate up to 110 mph. In terms of impact resistance, meanwhile, polymer rubber roof coatings are said to have a Class 4 Impact Resistance. Apart from that, since they're man-made polymer roof tiles do not have expansion and contraction issues. Polymer rubber roof coatings are an extremely durable and a lot come with warranties of up to 50 years. Do you need professional residential and commercial roofing companies to replace their roof? Look no further than Expressway Roofing and Chimney, the number 1 roofing contractors in Wantagh to call if the homeowner want to build a polymer roof. Give us a call at 631.772.6363 or fill out Expressway's contact form to get a free recommendation.
Excellent Membrane Roof Coatings
Membrane roofing is a roof system that was developed as a continuous watertight covering to protect the interior of a residence. Membrane roofs are predominately used as a flat roofing system since they are watertight, which is critical where water is not shed immediately. They may also be used on very low pitched roofs where shingled, slate or tiled roofing would not perform. A variety of products could be used to construct strong membrane roofs, for example synthetic rubber, thermoplastic (PVC or similar products), liquid polyurethane or modified bitumen will all be used. However, the pertinent factors of a tough membrane roof include weatherproofing components, reinforcement and surfacing. Sometimes a single material performs numerous essential tasks. Below the main roofing layers are the substructure (wood, concrete or metal), insulation, plywood, underlays, vapor barriers, etc. Ethylene Propylene Diene Monomer (Terpolymer) EPDM rubber roofing has the roofing industry's longest average service life of approximately 25-30 years. It is lightweight and flexible and may be used for flat, low and steep slope roofs – an ideal roof over application. The resilient membranes have a high resistance to wind, hail, UV radiation, thermal shock and turbulent temperatures, making it so very durable roof that will keep their roof watertight for years to come. There are three ways to lay down an EPDM rubber roof: adhered, mechanically fastened or ballasted. Each installation method has its own extras and uses. A fully adhered system means that the roof is being glued to the surface beneath it. This is both the most time-consuming installation and the longest lasting of the EPDM systems. The most common EPDM system is mechanically attached, which has fasteners that are screwed into the deck through the insulation. Ballasted systems are loose-laid over the insulation and held in place by smooth, river-washed stoned or concrete pavers.
Tar Roof Coatings
All long-lasting tar and gravel roofs are composed of laminated layers of asphalt based sheets, hot tar and roofing felt. The top-most layer is lined with a light colored gravel which protects the layers against sun defects and reflects obvious of the sun's light. If you have a house or business with a flat roof – a tar and gravel roof might be the way to go. Here are other parts to consider before deciding if this is the right roofing option for you. Of all the flat roofing types, a tar and gravel roof is the most budget-friendly and might have a lifespan of up to 30 years with regular maintenance and repair. It provides excellent protection against UV rays, it's energy efficient and is a great choice for windows and decks that overlook the roof. Gravel is also an excellent fire retardant and the surfaces on the gravel scatter light instead of absorbing it which could help keep the roof cooler in the summer. A tar and gravel roof has a great return on investment because it is inexpensive and lasts a long time. In addition, required repairs are less frequent because of the strength of the products. It is always recommended for a professional roofer to do any roof maintenance. Not only will they safely maintain your roof, but they will also advise you on the health and lifespan of the roof. Roof maintenance is something an owner need to do in order to protect the home from any sort of roof damages. A tar and gravel roof needs normal maintenance to extend its lifespan. At least once a year, check the gravel – if the roof surface becomes exposed, it may expedite the deterioration of the roof. Add gravel where necessary. Remove any leaf debris that builds up over time. Since the roof is flat, rain doesn't wash down leaves that fall on it and this will result in ponding which happens when water stays on the roof surface for more than 48 hours. If you're thinking about a tar and gravel roof, contact us – your local roofing pros for more details. Our technicians bring superior knowledge and skillfulness in commercial and residential roofing. Our guys are happy to work with you to understand what type of roofing is right for the home or business and their budgetary needs. Contact us today at 631.772.6363 or fill out Our contact form to get a free recommendation or a free estimate!
GAF Roof Coatings
Compared to other chemistry types, acrylic roof sealants are less expensive and just as durable. This means place owners will expect an acrylic roofing system to deliver long-lasting performance, reduced energy consumption and decreased maintenance fees. This powerful combination of cost and performance is what makes acrylic rubber roofing materials such a popular and sensible roof restoration solution. Acrylic roof coatings are highly reflective and UV resistant. These pivotal aspects can save money by drastically affecting cooling fees during the hot summer months. Minimizing the sun's impact on the roof surface not only helps sustain lower energy fees as the system ages but also cools internal property temperatures and extends service life. As a water-based substance, acrylics are easy to work with and install. This means an acrylic roof coating system may be installed in a timely manner without sacrificing excellent workmanship and with minimal disruption to day-to-day business operations. Also, installation pros will rarely encounter complications with application equipment, making them more productive and efficient. Acrylic roof coatings are a highly effective roofing solution. There's a number of key factors to consider when it comes to choosing the best acrylic roof coating system for a commercial roofing environment. Mainly composed of water, calcium carbonate, acrylic polymer resin and titanium dioxide to provide the color. Acrylic rubber roof coatings are available in various formulations for application on almost every type of substrate. Individual roof sealants are not applicable to all substrates. It is imperitive to check the product data sheet of the actual product before selecting an acrylic coating.
Solvent-Based Coatings (Asphalt)
A 'solvent cutback' is an asphalt or bitumen substance used to lower the viscosity of a hydrocarbon product to enable easier application through a piping or processing system. Solvent cutback typically clusters asphalt cement with petroleum solvents to make the asphalt less viscous. Solvent evaporation allows the asphalt to harden. These asphalts are curing enabling and are classified as rapid, slow or medium curing respectively. Solvent-based coatings are cut in mineral spirits or high flash point solvents that aid in easy application to metal surfaces. Quick to dry, leaving a firm/hard shell… these rust preventive roof coatings are made for long-term usage. If an owner are looking to extend the life of their existing BUR, Modified Bitumen, Coal Tar Pitch, TPO, EPDM, Hypalon or gravel roof an asphalt emulsion fluid applied reinforced system has a slew of proven pluses. In general, the roof should be structurally sound. Minor issues with deck and moisture could be fixed simply but if the overall roof is compromised a 'tear off and replace' might be your only choice. Your roof should be inspected by experts in the field to determine whether your roof qualifies. With an asphalt emulsion coating system overlay and minor maintenance, the lifespan of your roof may be extended indefinitely.
Bitumen coatings
Bitumen and Modified bitumen are thought to be the evolutionary cousins of the built-up roofing systems (BUR) that have been used on low-slope roofs for more than a century. It is made of asphalt amassed with polymerized rubber or plastic, then reinforced with fiberglass to design a rugged-yet-flexible waterproof membrane. Modified bitumen roofing is primarily used on flat or low-slope commercial roofs. Depending on the types and products you wish, these membranes could be installed as part of a two-layer system or as part of a multi-ply system. Modified bitumen usually falls into one of two varieties: APP and SBS. Commonly nicknamed "plastic asphalt," atactic polypropylene (APP) membranes consist of asphalt blended with plasticized polymers that become elastic under high temperatures. APP is resistant to UV rays and is a great option for structures seeking a "cool roof" effect. SBS stands for styrene-butadiene-styrene, but it helps to think of SBS roofing as "elastic" or "rubberized" asphalt. This membrane unites asphalt with polymerized rubber for natural flexibility and elasticity. SBS is a good idea for a building whose roofs expand and contract with extreme temperature changes, as well as roofs subject to higher winds.
About Expressway Roofing
Our technicians think craftsmanship is more important to a roof system than the actual roofing products themselves. Our mission is to keep our customers' property watertight, protect their investments (and employees), all in concert with usual business operations. From inspection and installation to repairs and maintenance, we focus on workmanship and attention to detail, providing an owner a peace of mind with our 'no leak guarantee'. Our dedicated service and production team attend mandatory safety and installation training on a usual basis. This means your projects are OSHA compliant and completed by experienced, specialized highly-skilled crews every time. Expressway Roofing & Chimney, Inc of Wantagh, Long Island, NY provides professional, excellent construction services to our fellow customers on Long Island. Our guys are a family-owned and operated company and come with decades of combined expertise in all properties of exterior building improvements. At Expressway Roofing & Chimney, our roofers serve all of Long Island with guaranteed minimal pricing (for our high level of top-notch work). We're famous for the quick start-to-completion times as well as the warranty our roofers offer on our labor against any malfunctions or defects. Our guys work hard. Our pros begin working early and stay late if the job calls for it.
Ask About rubber roofing materials
Wantagh Flat Roof Repairs
Rubber Roof Repairs Contractors Long Island
Wantagh Gaco Repairs
Flat EPDM Roofing In Suffolk
EPDM Flat Roof Maintenance In Suffolk
Flat Roofing Contractor Near Nassau
Gaco Flat Roof Repairs In Suffolk
EPDM Garage Roofing On Long Island
Wantagh Flat Roof Flashing Repairs
Wantagh EPDM Repairs
New EPDM Roofing Repairs Suffolk
Wantagh Roofing Repairs
New EPDM Coating Repairs Near Nassau
EPDM Flat Roof Contractor In Suffolk
BUR Installations On Long Island
EPDM Roof Repairs In Nassau
Flat Roof Waterproofing On LI
EPDM Roofing Install Near Wantagh
Rotted EPDM Resealing In Wantagh
Rubber Roof Repairs In Suffolk
EPDM Shed Roofing On Long Island
Asphalt Roofing Installs In Wantagh
Flat EPDM Roofing Contractor Long Island
EPDM Roofing Installation On Long Island
Roofing Leak Detection Near Nassau
EPDM Roofing Leak Repairs Wantagh
Gravel Roof Repairs On Long Island
LI EPDM Roofing Underlayment Repairs
Wantagh Spanish Tile Roofing
Fascia/Soffit Repairs On Long Island
Storm Problem Repairs In Suffolk
Wantagh Roof Tar Repairs
Repairs Rubber Roofing
Aluminum Roofing Replacement Near Nassau
Roof Coating Repairs In Wantagh