RAIN Gutter REPLACEMENT Services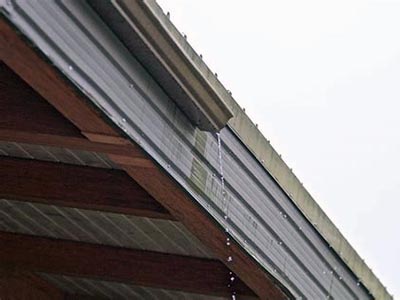 Why Do You Need Proper Gutters?
To shelter your property from rain, your roof needs strong and high-quality gutters. Expressway installs or replaces copper, PVC, steel and aluminum gutters. A leaky roof and broken gutters will allow rain water flow where it shouldn't and could cause severe damage and health risk to your family.  Homeowners generally choose aluminum gutters because they last longer. We always test new gutters installed on your home or business to ensure that they work properly before we leave.
Expressway provides all types of gutter replacements, gutter installations and gutter repairs for our fellow Long Islanders. We're proud to say we have over 20 years of gutter replacement experience – so you can rest easier knowing that your gutter replacement will be finished properly – on time the first time – and on budget! We work on both residential and commercial gutter systems. So, whatever you gutter needs are we have you covered!
Is Replacing Standard Gutters Hard?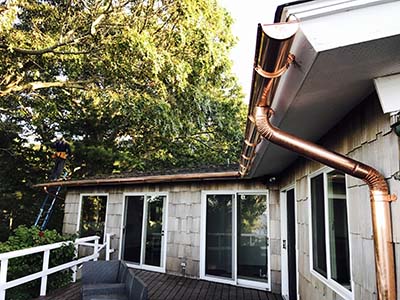 Gutters are most often installed by professionals, but there's no reason you can't do it yourself. All the materials and accessories are readily available at home centers, lumberyards, and roofing-supply firms. And if you're going to replace your gutters and downspouts, you may as well upgrade the entire look and performance of the rainwater system.
If you're looking to replace the gutters on your home in the Long Island area, be sure not to delay. Gutters play an integral role in keeping the inside of your home dry and free from the costly and expensive effects of water damage. If excess moisture is not channeled away from your home, it can cause roof rot, landscape erosion, mold and mildew growth, basement/crawlspace flooding and much more.
is It Time To Replace Your Rain Gutters?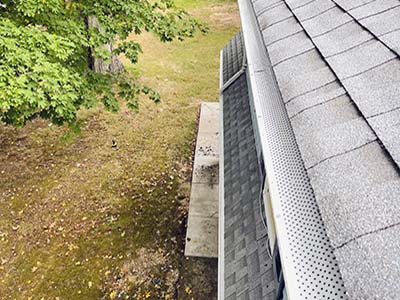 For homes in most regions of the country, rain gutters and downspouts are necessary to collect and carry away rainwater. Without them, water would erode the soil around the foundation, splash dirt onto the siding, and likely leak into the basement or crawlspace. There are a few tell-tale signs, including if:
You see rust or cracks
They are beginning to pull away from your roof
There is stress at the seams
They are uneven and slouching in some areas
You see pooling water on the ground below
Your basement or crawlspace has begun flooding
You see broken fasteners
We can replace the gutters on your home with our designer fascia-style gutter system. It is designed to handle 23 percent more water than standard gutter systems and is nearly four times stronger. Each miter is custom made –  onsite – for a perfect fit and is designed to blend seamlessly with your home's exterior. Plus, it has a coated finish that prevents chalking and weathering over time, so it will never detract from your home's curb appeal.
Seamless or Non-Seamless
Most seamless gutters can be matched color-wise to fit your home and are more secure compared to non-seamless gutters. They are sturdier and provide a better deterrent from critters trying to get into them, and fewer seaming means less leaks.
Sectional/non-seamless rain gutters are more traditional. They will last for years, a positive about these types of gutters is that they can be replaced within sections, as opposed to the entire technique. In order to have them live up to their full potential they will need to be properly managed, which includes regular cleaning.
Gutter Materials
Gutters appear in copper, aluminum, vinyl, along with stainless steel. Some of these, like water piping and stainless steel, may be very long lasting, but are more costly. Steel is best within situations where residents are now living in areas that have high rain levels. Steel gutters are not commonly used for residential properties. Aluminum and vinyl gutters are popular choices because they are less expensive. They are very lightweight and easy installation, they require more maintenance than metal gutters. They are also not as durable and do not last as long.
Gutter Styles
Style-wise you can choose between half-round gutters and K-style gutters. Both perform well, this usually comes down to an aesthetic selection. Half-round is a more traditional, while the K-style is newer. Half spherical gutters have been around for a long time and several consider them to be a much more superior type of gutter.
Copper Half Round Gutters
Rainwater gutters serve a very important function – they capture rainfall water and divert this away from your house. And prevents damage to your gutters or roof, siding, and foundation. They will preserve the integrity of your house! Rain Water damage is a problem due to property owners not cleaning or perhaps maintaining their gutters. Harm can appear in the form of the structures and soffit rotting. Water can easily crack the foundation of your home, ruin your landscape and even destruction the interior walls of your home.
Aluminum Gutters
Lightweight aluminum is the most popular material in relation to making gutters. It does not corrosion and can be painted over as frequently as is desired. Aluminum rain gutters come in many sizes nevertheless thick layers are only essential in regions where large snow is expected.
Copper Gutters
Copper gutters are the classy choice – but they have a price. They are generally more durable than aluminum gutters and after a certain time has handed they will be covered with patina, which in turn varies in color from gentle to darkish green.
Metal Gutters
Metal gutters are a risky choice. Only stainless and galvanized material is recommended to be used; otherwise the actual metal doesn't last long. It's cheaper to install copper, more often it is more costly than aluminum.
As far as material is concerned, the second options are the most widely used in the industry. Now let's see some of the designs aiming at carrying out particular functions.
Seamless Gutters
Seamless gutters are the best and most popular. They are made out of one continuous piece of metal. The lack of stitches is the best guarantee for the shortage of leaks. They usually come with a more time warranty period than some other gutters. 
Half Round Gutters
The traditional half-round shaped gutters. They are easy to deploy and clean. They may require an upgrade of a gutter-guard system in order to prevent blockages. Half round systems offer a more famous and elegant look than the common "K-Style" gutters. They are arched so that they collect rain or burning ice and then divert this to the downspout. They are available in a variety of supplies such as copper and aluminum.
Because of their classic style, they are generally used on older homes which might be restored or on brand new construction that is intended to use a classic look. Historically half round systems were largely applied to upscale homes. Not only are they preferred for their cosmetic quality, but they are considered an excellent type of system.
Rain Chain Gutter Downspouts
Rainfall chains are the beautiful choices of round gutter downspouts. An item of carefully designed chain with a series of plates, guides the river down openly. For the start looking they may seem less sensible than the traditional solutions, but they're practical. Gutters are an important part of any framework. Gutter systems keep rainwater away from your home, defending your foundation.
Choosing gutters for your residence or business may seem like something can do as an afterthought. There are only so many options, right? Nevertheless upon further investigation presently there really are quite a few options, of course, if you know very little about gutters, this can become overwhelming. Picking the right gutters, in the correct color, with the best efficiency, in the best style for your residence, can actually end up seeming relatively complicated.
Replacing Rain Gutter Screens & Covers?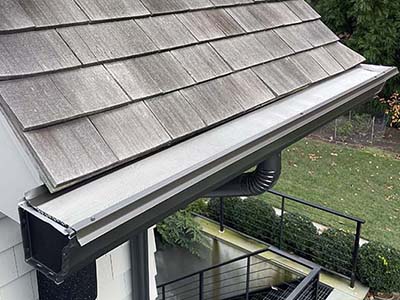 If you would like to make your life easier by minimizing your gutter maintenance, then there are a few options. Such as Gutter screens and covers. These will help keep debris out and from entering and clogging your gutters. These are also available in many different colors and styles to match your home.
Does Expressway Do Rain Gutter Cleaning?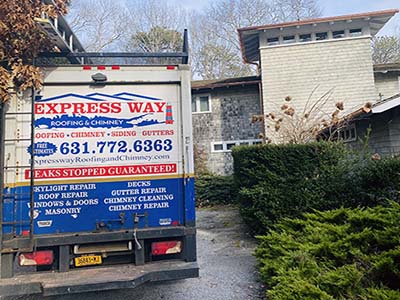 We are licensed and insured and have over 20 years experience. Our gutter technicians can help answer all of your questions and address your needs. Call Expressway Roofing today at 631.772.6363 for gutter screens or gutter covers.
Contact Expressway Roofing