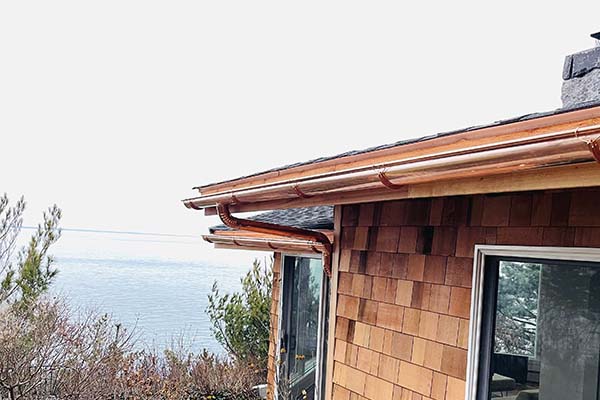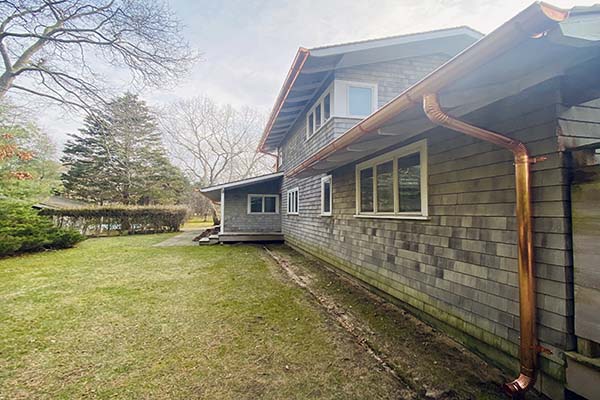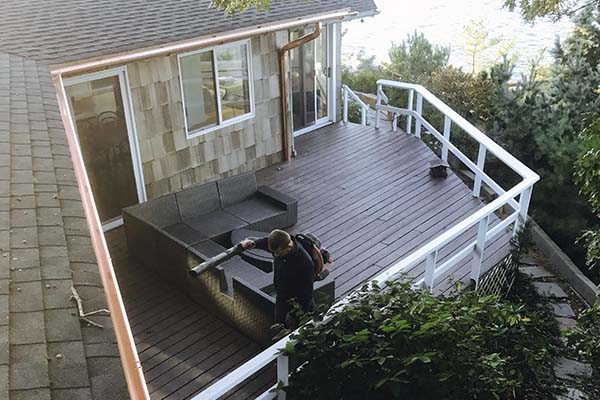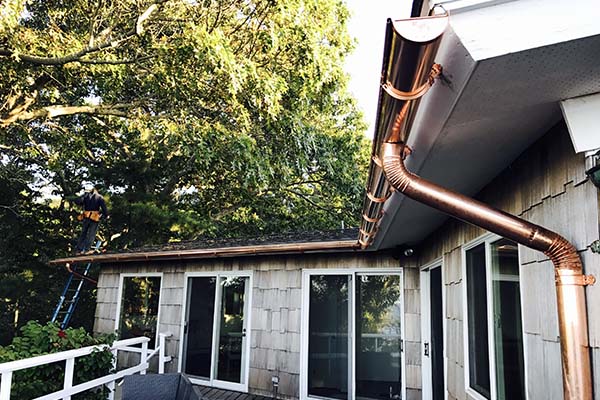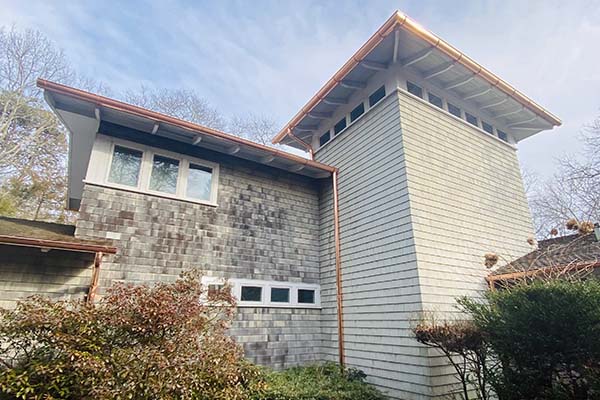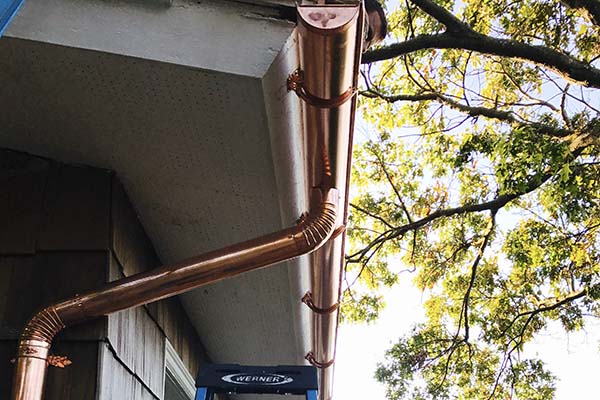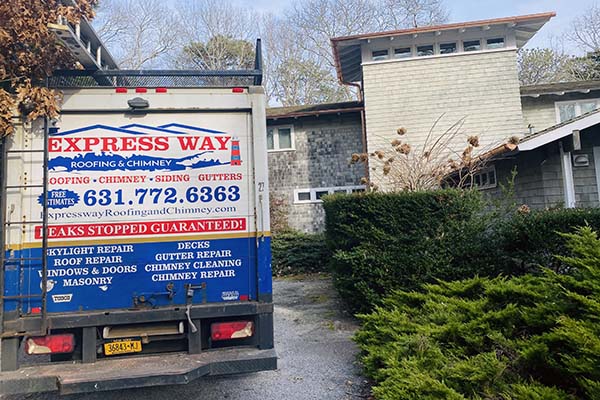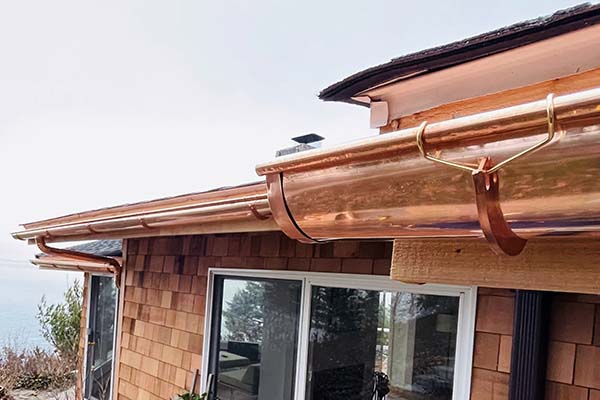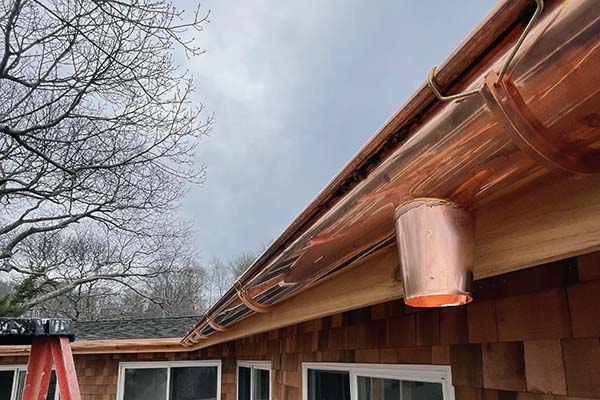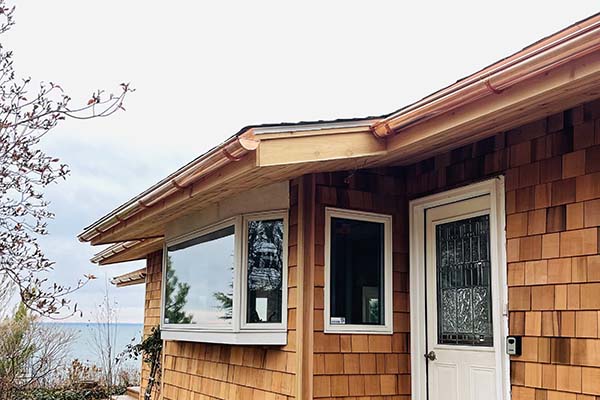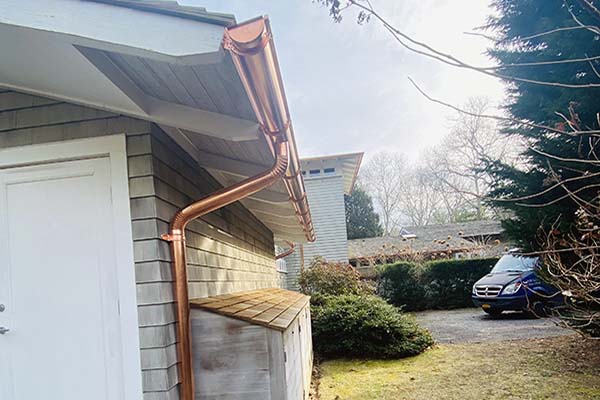 COPPER Gutter Repair & Installations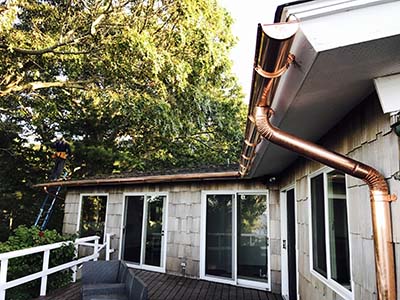 Are New Copper Gutters Effective?
Beautiful new copper gutters are an amazing option for homeowners when it comes to their gutter needs. Without gutters on your home, you're risking damage to your landscaping, foundation, roofing and siding which can be a costly repair for any homeowner.
New copper gutters allow you to protect your home and add to the overall appeal of your house. When you have a quality professional like Expressway install your new copper gutters you'll have many options for style and design so they don't distract from your beautiful home.
Also, when you hire an expert to install your new copper gutters you're saving yourself the trouble of future repairs to your foundation, siding and roofing. Not only that but you won't have to worry about long term maintenance, as these gutters tend to be long lasting and don't require much maintenance (when installed correctly). There are even options (such as gutter guards and screens) for copper gutters that allow for debris protection to keep you from having to clean them often.
Can I Get Copper Gutters?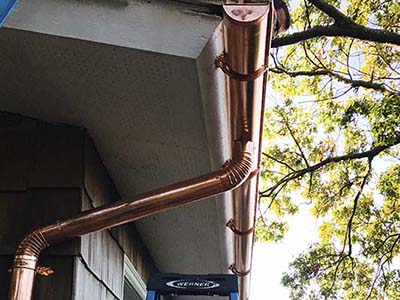 Copper k-style gutters offer the best of all worlds as they are functional, elegant and cost effective which makes them the most popular copper gutters system on the market. When installed properly, k style copper gutters are more durable than half round gutters and yet easier to install.  The deep trough allows the k style gutter to handle more water than the traditional half round gutters and they typically will hold up better in harsher climates.
 
K style copper gutters are available in 5″, 6″, 7″, and 8″ profiles.  The 5″ and 6″ gutters are available in customs lengths in both 16 oz. and 20 oz. copper.  The 7″ and 8″ k copper gutters are available in 10 ft. lengths with the 7″ gutter available in 20 oz. copper and the 8″ available in 20 oz. and 24 oz. copper. Half-round gutters look like a round tube cut in half, leaving a semi-circular tray that hangs on the eave. K-Style gutters have a flat bottom and back, and the front side is curved or ogee shaped.
Copper gutters are our specialty. Copper gutters add an elegance and sophistication to your home. Copper is known for its durability over a long period of time. Copper adds to the value of your home and is aesthetically appealing. We offer Copper gutters in K-style, Half-round and Box style. If you are looking to install copper on your home, make sure and call our professional team to ensure a high quality install.
Do We Install Copper Gutter Guard Screens?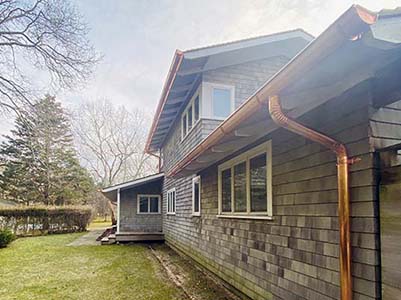 Copper is not the everyday choice for gutters, downspouts, or flashing. Your home could be the only one in the neighborhood with a copper gutter system. It adds sophistication, elegance, and value to your home, as well as increasing your curb appeal. In addition, copper offers two stylistic choices – based on the look you are trying to achieve. 
If copper is allowed to oxidize, it will gradually form a coating, turning dark gray and—eventually—a lovely green color (patina). This can give the home a stately appeal and is the preferred choice among homeowners. The process takes a while—up to six years—to complete. If you desire the natural look of copper, you need to protect it with a sealant to prevent oxidation.
Expressway provides all types of copper gutter installation and repairs for Long Island homeowners in either Suffolk or Nassau County. With our 20 plus years of experience you can rest easy knowing that the job will be finished on time the first time and within budget!
We work on both residential and commercial gutter systems. So, whatever you gutter needs are we have you covered.
Most gutters that we install or made from aluminum but we do beautiful work with copper as well. These copper gutters are available in a few different shades that can be matched closely to your home or business's exterior. These come in several different sizes.
Do Copper Gutter Guards Need Cleaning?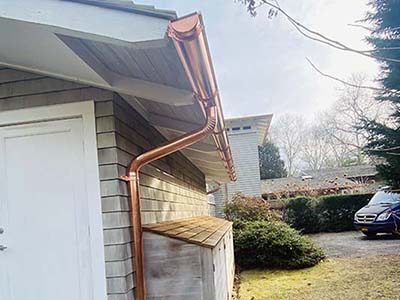 If you would like to make your life easier by minimizing your gutter maintenance, then there are a few options. Such as gutter screens and covers. These will help keep debris out and from entering and clogging your gutters. These are also available in many different colors and styles to match your home.
Copper gutters and downspouts cost between $25 and $30 a foot, installed. Compare that to steel ones that are $8 to $10 per foot, and aluminum ones that are $5 to $8 per foot, and copper's more than twice the cost of other materials. But. Copper gutter systems last an average of 60 years and can last as long as a century with proper maintenance, because they won't rust. Yes, copper gutters may outlast you. Gutters of cheaper materials have much shorter lifespans. Those inexpensive vinyl ones need to be replaced every 10 years, and steel or aluminum ones need to be replaced every 20 years. Do the math. On a per-year cost basis, copper gutters don't cost much more than steel or aluminum ones. And copper looks so elegant, making a home look like a landmark.
You'll need to clean tree debris and roof runoff out of copper gutters, just like every other kind of gutter. Debris left in the gutter too long will discolor the copper. Use soft plastic tools, not metal ones, to remove the debris or you'll scratch the copper. And no bare hands. Your skin has oils on it that will leave spots on the copper and mess up the patina, so wear gloves when cleaning.
We also provide guard cleanings for any home and business. If you are in the market for a gutter installation, cleaning or anything else gutter related then we at Expressway have you covered! Feel free to give us a call at 631-772-6363 and someone will be in touch shortly!