ALUMINUM Gutter Repair & Installations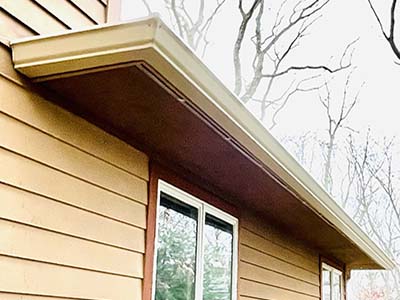 The Standard: Aluminum Gutters
Aluminum gutters are a common type of guttering made of lightweight aluminum. They're prevalent for homes and commercial buildings. Vinyl gutters consist of a lightweight plastic material. You might also know them as "PVC gutters" or "plastic gutters." They have a snap-together installation method, which led to their initial popularity in the DIY market. 
Many people choose aluminum gutters because it has many of the positive attributes of vinyl gutters without the negatives. Like vinyl gutters, aluminum gutters will not rust, is lighter in weight (than steel gutters), and are relatively affordable. They are easy to install and come in a wide variety of colors and styles, making a selection that fits your home's style a breeze.
Aluminum gutters are more durable than vinyl gutters. They will not sag and can last 20 or more years in most climates. Coastal areas may cause corrosion in aluminum gutters because of exposure to moisture and salt. However, heavy snow, hail, and wind can cause aluminum gutters to become dented or even damaged.
If your roof has copper flashing or shingles that are algae-resistant, you should not use aluminum gutters. The copper that washes off your roof can cause the aluminum to corrode faster. To keep aluminum gutters looking their best, you will likely need to be painted at some point once the enamel coating wears off.
Whether you choose vinyl or metal gutters depends on many factors, including which properties you value most and the unique demands of your home and climate. For most homeowners in New York, aluminum gutters are a better choice. Aluminum is one of the most commonly used gutter materials today. It is best suited for coastal areas where salt spray is in the air and can cause rust to steel. Aluminum comes in more colors than any other material. Sometimes we are forced to use aluminum due to a color selection not available in steel. 
Aluminum gutters come in two thicknesses, .027 light duty material or .032 medium duty material. There is no such thing as industry standard heavy duty Aluminum. A 50 foot long gutter made of aluminum will expand and contract 5/8 of an inch in 100 degrees of temperature swing. This movement will cause the screws at the hangers to come loose eventually and the gutter will start to come off the house. Also this movement will cause premature failure of the sealant at any joints or corners. Aluminum gutters do not hold up to ice and snow or hail damage as well as steel or copper.
We at Expressway provide all types of aluminum gutter installation and repair in Suffolk and Nassau County, NY. With our 20+ years of experience you can rest easier knowing that the job will be finished on time the first time and within budget!  We work on both residential and commercial gutter systems. So, whatever you gutter needs are we have you covered!
More About Aluminum Gutters
For homeowners who want to avoid cracked gutters due to the freeze and thaw cycle, as well as the possibility of significant sun fading, metal is the way to go. There are numerous options available, including traditional (and affordable) aluminum gutters that resist rust and corrosion, or paint-ready steel gutters that can be primed and painted with quality products that will keep rust at bay. These materials are far more durable than vinyl, and in many cases, aluminum gutters are even more affordable.
Before deciding on a gutter material based solely on aesthetics and price, it is always a good idea to take some time to evaluate the pros and cons associated with each material. Though vinyl may look nice, and may be incredibly affordable, it is not without its faults — and it's not the best choice in many parts of the country. Fortunately, there are numerous other options available to suit your aesthetic wishes, and your budget.  Most gutters that we install or made from aluminum. These are available in a ton of different colors that can match your home or business. These come in several different sizes.
Aluminum is the material used for most house gutters today. It's available primed or factory-finished in a wide array of colors. Aluminum gutters are lightweight, yet they withstand the elements well and resist rust.
You can find thinner-gauge sectional aluminum gutters for DIY installation at big box home improvement stores. Heavier-gauge aluminum is the material of choice with professional installers who fabricate custom seamless gutters. Top quality aluminum gutters can have a lifespan of 20 years or more, and they offer the best value because of their durability and moderate cost. 
Gutters play an important role in storm water management, helping to collect and move the water away from your home and foundation. A gutter collects water from your roof and transfers it to a downspout, where it is directed away from your home. Gutters come in many materials and styles, with the aluminum gutter being one of the more popular because of its price and durability.
Gutter Screens and Covers
If you would like to make your life easier by minimizing your gutter maintenance and long-term gutter replacement costs, then there are a few options. Such as gutter screens and covers. These will help keep debris out and from entering and clogging your gutters. These are also available in many different colors and styles to match your home. 
Gutter Cleaning Estimates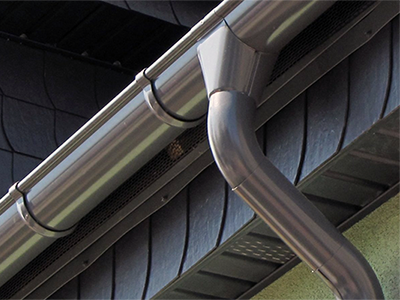 Anytime you need gutter installation or repairs of existing gutters, our licensed, insured contractors are ready to roll up their sleeves and get your gutters done the right way. We can give your home the perfect finishing touch! We do complete gutter and downspouts installation using "k" style gutter as well as half round gutters and downspouts. We use aluminum, steel and even copper material. With upward of 35 colors to chose from. We also do exterior finish, siding, soffit and facia. As well as decks.
We also provide gutter cleaning for any home or business. If You're In need of a gutter installation, cleaning or anything else gutter related, then Expressway has you covered! 
Feel free to give us a call at 631.772.6363 and someone will be in touch shortly! We also offer repairs of aluminum, stainless steel, copper and vinyl gutters. If your gutters can or can't be saved, we'll tell you honestly and quote you a fair price on a full replacement.