GUTTER GUARDS PROTECT YOUR HOME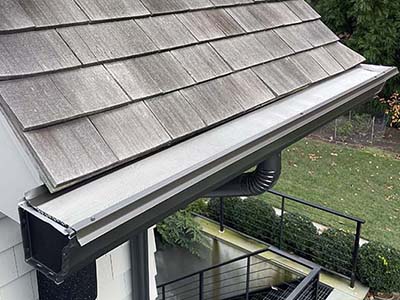 Do you Need Gutter Guards?
Although we install gutter guards, screens and covers on homes and businesses all over Long Island – they do not always stop debris and leaves from clogging your gutters 100% of the time. This can eventually lead to water overwhelming the gutter system and getting into your roof, siding and exterior.  While guards, screens and covers prevent large debris from entering the gutter system, small debris will find its way into your gutter system. That debris build up can lead to clogged and damaged gutters – eventually damaging your home and/or foundation.
Your gutters are a catch-all for twigs, dirt, roof runoff, and other outdoor grime. Without regular cleaning or protection, your gutters fill with heavy muck that can cause serious damage if left unchecked. Your home's gutters are an investment meant to protect your home by diverting rain away from your house, but when clogged, gutters won't work as well as they should. And with too much clogging, your gutters can bend or worse, detach from your roof. Gutter guards are one way to protect your home from damage. 
But do gutter guards work? The answer isn't simple and there are advantages and disadvantages—professionals agree that leaf gutter guards don't provide foolproof protection against clogging, but they do drastically decrease annual maintenance. 
Gutter guards are also known as gutter screens, helmets, or covers, and they're placed over the tops of your gutters to prevent leaves, twigs and other debris from entering—they also allow water to drain away from your house properly. Ideally, these guards will save you time and money in the long run by reducing maintenance costs or worse, the cost of major home repairs. Many homeowners realize too late that clogged gutters can cause serious, expensive problems with your property.
It seems like gutter guards are a perfect solution to keeping your gutters from clogging. Plus, with a cover in place, you'll never have to clean gutters again. Right?
Not so fast. Gutter guards can be a good tool if properly installed and maintained, but they're not worry-free. As a rule of thumb, it's important to note that gutter guards don't provide foolproof protection against all debris. However, they do help you cut back on yearly upkeep, cleaning, and maintenance.
What Do Gutter Guards Do?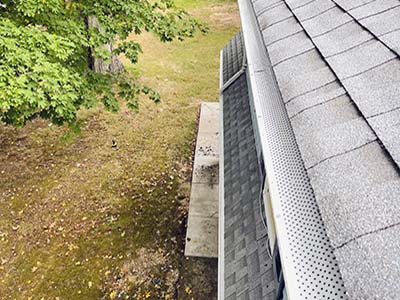 Gutter guards block debris and litter from entering the gutters and downspouts and drains. This eliminates the chance of clogging to the point that water won't flow freely, causing the water to spill onto the sides and damage the wall cladding in the process.  Gutter guards save more time and money. Gutter guards prevent debris and dirt from accumulating in your gutters and clogging up the system. Installing them will significantly reduce the number of hours spent on removing litter from your gutters. 
But that is not all. It also reduces repair/maintenance costs. This allows you to use money for other projects. Some debris may still collect on top of your gutter guards. However, the surface of gutter guards are exponentially easier to clean than the varied corners found inside the gutters. You do not need to dig in to scoop out handfuls of dirt, twigs, seeds and leaves. We recommend to get your gutters cleaned at least twice a year. But, if you have gutter guards installed, you will reduce the number of necessary cleanings.
Once your gutters are free and clean, it may be advantageous to install gutter guard to prevent a large build up of leaf litter and branches. The mesh generally is 0.8 mm powder coated aluminum mesh that can be installed onto most types of rooves and guttering.


Colors: The aluminum mesh comes in all of the color range.

Warranty: The mesh comes with a 15 year manufacturers' warranty.
Cleaning:  Before any mesh is installed we will ensure that your gutters are free from any leaf litter, branches or soil and that your downpipes are working correctly.


Are gutter guards right for your house? Due to the nature of gutter guards, smaller leaf litter such as pine needles can pass through and collect in the gutter under the mesh. If you have pine trees within the vicinity of your property then we would not recommend gutter guard for you. We are happy to come and have a chat and discuss any concerns that you have.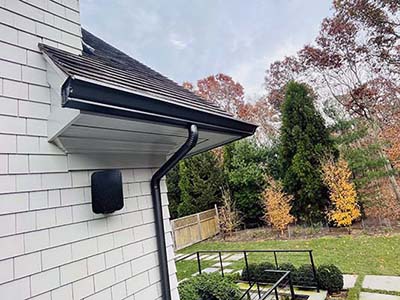 We recommend that you be sure to have your gutters and guards inspected yearly (at least) to give you the best options for preserving and protecting your home gutter guard system. We find that even with a gutter cover, you will most probably need to still have your gutters cleaned on a somewhat regular maintenance basis. Our gutter screen and cover installation services include an initial gutter cleaning. Expressway Roofing specializes in all phases of gutters including cleaning, gutter screens and covers, repairs, inspections and installations.
Some gutter guards and installation companies will promise a maintenance-free product that you can install and forget. But, this isn't true and it's wise to be wary of those claims. In reality, gutter covers don't keep every bit of debris out. If you live in a rainy, windy area, twigs and roof debris can still find a way into your gutters.
With a gutter screen or cover, it might be harder to see when that debris piles up. As your gutters become clogged, water can back up underneath your shingles and cause roof leaks and damage. If you have large trees and a lot of foliage hanging over your gutters, gutter guards can help block larger falling leaves or twigs. But, you shouldn't depend on them to save you from routine cleaning.
You'll need to clean the top of your gutter guards throughout the year to make sure water still drains through to your gutters, and you'll need to remove and clean any debris that makes it into your gutters.
Call Expressway For Gutter Screens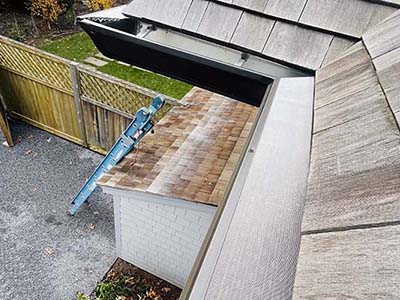 With our gutter guards, not just your gutters but also your rooflines are protected from unwanted debris. A heavy downpour can be more than your gutters can handle, especially if the gutters contain leaves and sludge. Downpipes can get blocked and the overflow of water can damage your roof and your home, getting into the roof space, damaging ceilings and walls.
This can lead to mold, a serious health issue. Gutter guards protect your gutters and roofline from this excess debris.
We are licensed and insured and have over 20 years experience. Our gutter technicians can help answer all of your questions and address your needs.
Call Expressway Roofing today at 631.772.6363 for gutter screens or gutter covers.