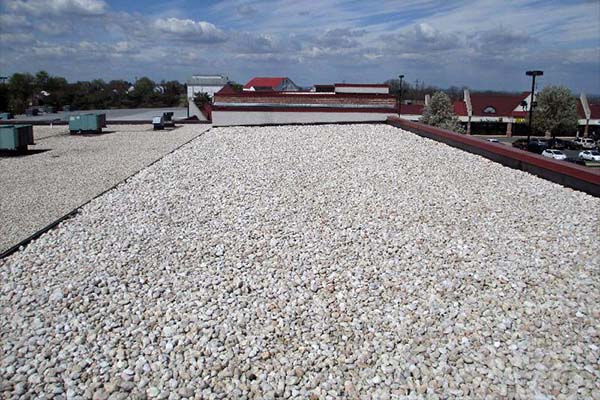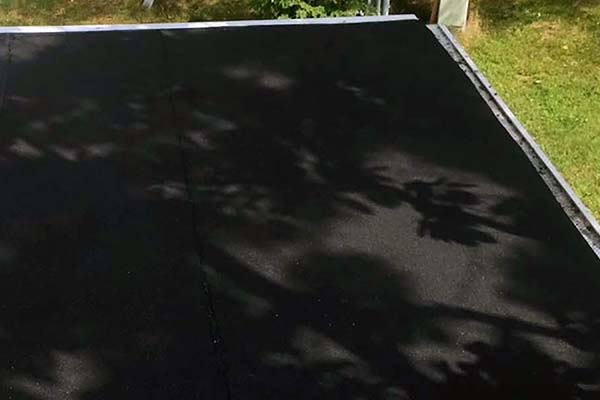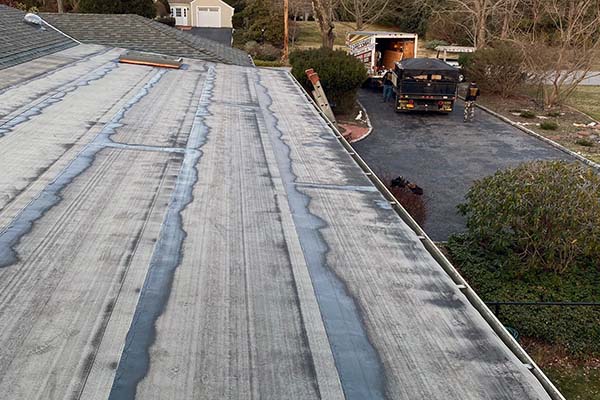 TAR AND GRAVEL FLAT ROOFS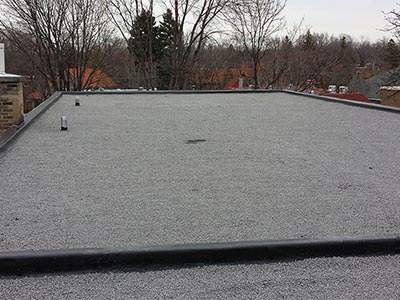 What Is A Tar And Gravel Roof?
One of the preferred choices of homeowners is tar and gravel roof. Your home will be protected by it against external elements such as heat, rain, snow, and winds. It is suitable for flat roofs and is installed by applying multiple layers of fiberglass reinforced tar-paper, saturated with asphalt. To enhance its durability, the sheets are then covered with a coat of hot asphalt and gravel. Tar and gravel roofs are less expensive than the newer membrane and thermoplastic type roofs. They do hold up under ponding water better. And hail won't damage a tar and gravel roof.
The initial application does have a strong odor, though. The gravel can wash off the roof in really heavy rains. We don't install it on 2 story or homes with difficult access. It is not installed when temperatures are above 80 degrees. Gravel is a common roofing method used for structures with flat roofs. Also known as built-up roofs (BURs), these roofs use layers of asphalt and roofing paper or membrane material topped with gravel. Minor leaks can often be repaired by the homeowner without requiring a complete roof replacement.
Are Tar And Gravel Roofs Waterproof?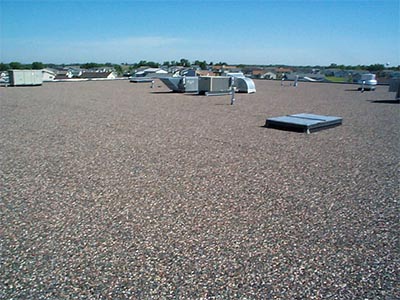 Yes! Tar and gravel roofs are installed with waterproof material to help withstand heavy rains and harsh weather conditions while greatly increasing the durability of your flat roof. Unlike metal roofing, which is a costly investment, tar and gravel roofs are lighter on your budget and don't require frequent repairs or replacement. It helps you save in the long run. Whether you want a fresh installation or maintenance service, Expressway Roofing will promptly take care of it. Call us now for free estimates.
What Kind Of Maintenance of My Tar and Gravel Roof is Required?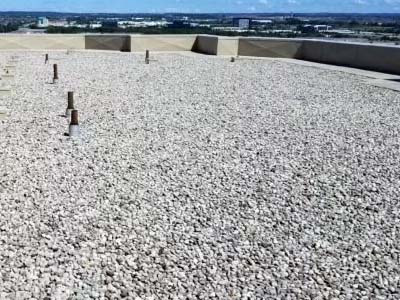 In virtually any neighborhood, you'll notice houses with tar and gravel roofs. This system is affordable and has stood the test of time. Tar is layered with paper and has to be squeezed to remove any air bubbles.
Roofs are directly exposed to sunlight. Gravel, the topmost layer of tar roofs, is resistant to ultraviolet rays. Many are drawn to tar and gravel roofs because of their long life expectancy. It offers protection against the elements with its gravel top coat, otherwise referred to as a flood coat. This material can withstand heavy rainfall and hail damage. For flat roofs, it's especially important to select a material that can resist moisture.
Their shape prevents water from draining off as it does with a sloped roof. Asphalt has the ability to waterproof a roof, and extend its lifespan. On average, tar and gravel roofs last for 25 years; with exceptional maintenance, they can last as long as 40 years. This is due to the resilience of the materials, such as the embedded gravel, which resist degradation. It's also an energy efficient option; gravel can release heat and prevent your house from getting hot in the summer.
It's sturdy enough that it's safe to walk on, which makes repairs easier in the long-run. Those who appreciate affordability, endurance, and accessibility will be impressed at what tar and gravel roofs have to offer.
We suggest you get your roof inspected every year – without fail. We also suggest (for 100 reasons) to get your roofing issues addressed and fixed at your earliest opportunity to save you from an even more costly repair later. Simply cleaning off the debris from your roof regularly will extend the life of your roof. Always hire a professional roofing company to service or install and maintain your tar and gravel roof.
Flat Roofing Services Expressway Offers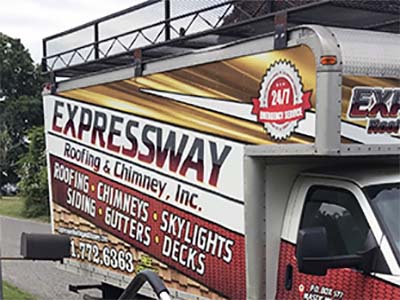 We are experts at all things 'flat roof'. We've been continuously in business for over 20 years. Some of our other flat roofing services include general flat roof repair, flat roof gutter repair, flat roof chimney repairs and installations and much more. Please call us at 631.772.6363 for your next flat roof repair service.
LONG ISLAND'S FLAT ROOF REPAIRS EXPERTS
The Most Dependable & Affordable Residential Flat Roofers On Long Island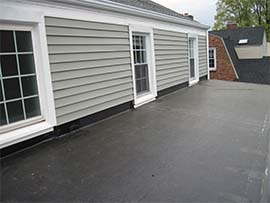 Expressway Roofing & Chimney has all of your commercial and residential flat roof needs covered!
We're a decades-old, Long Island, family owned and operated all-aspects roofing company that won't beat around the bush or provide awful customer service. Our free, fair and honest quotes are completely transparent. In fact, our business model has evolved around a concept of fairness, openness and honesty – for our fellow homeowners across Nassau and Suffolk counties. Trust in Expressway Roofing & Chimney –  just like our long list of Long Island homeowners that have used our roofing services over the last 20 years.