ROOF FLASHING REPAIRS & INSTALLATIONS
We at Expressway Roofing & Chimney have all of your roof flashing needs covered! Anything from a full installation to repair you can rest easy knowing that the job will be done right the first time and on time. With our experienced techs there is no job to small or to big for us at Expressway. Roof flashing can be installed around doors, gutters, windows and chimneys.
Important Parts
Each roof has critical areas that will need flashing. This will help prevent damage to your roof and to the interior of your home.
Valleys (low points on your roof)
Side walls and front walls
Roof edges – this includes rakes and eaves
Roof protrusions
Roof Flashing Types
There are a ton of options when it comes to roof flashing. With todays technology you can almost get flashing in any color, material etc. However, we at Expressway deal mostly with a few specific kinds.
Base Flashing – This type of flashing makes sure that water will always encounter a flashing surface that will guide the water away from the roof. This is usual made up of two pieces.
Continuous Flashing – This type of flashing is one long and single piece of flashing. It will carry water down. We build expansion joints into the long pieces to help with it expanding due to the weather.
Skylight Flashing – This type of flashing covers your skylight.
Valley Flashing – This will protect open valleys from water.
While there are several other types of flashing these are just some of the most common types we deal with at Expressway.
Why Choose Expressway?
Before choosing any company to repair or install your roof flashing you should always make sure you are choosing the right company. We at Expressway could give you a ton of reasons why to choose us. But we would rather our previous work and reviews do the talking for us. Each project we work on, is treated as if it was for us or for a family member. Making sure that everything is done correctly. We take great pride in the work that we do, allow us to be your one stop shop roofing company in the Moriches, New York area!
Roof Replacement
Expressway can replace all or just part of your severely damaged roof.
LONG ISLAND'S ROOF REPAIRS & INSTALL EXPERTS
The Most Dependable & Affordable Residential Roofers An Long Island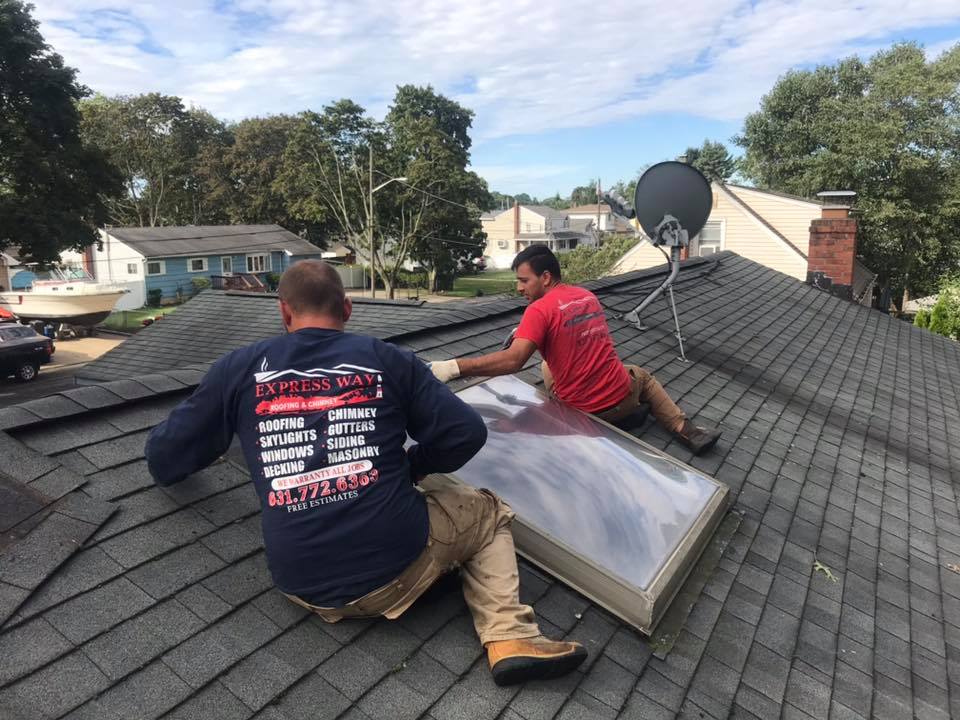 We at Expressway Roofing and Chimney have all of your roof needs covered!
Are you looking for a Long Island roofing company that won't beat around the bush with awful customer service? Our free, fair and honest quotes are completely transparent. In fact, our business model was designed around that concept of fairness, openness and honesty – just for our fellow homeowners across Nassau and Suffolk counties. Don't do business with a roofer that's not clear in what they need to get the job done. Trust in Expressway Roofing and Chimney just like our long list of Long Island homeowners that have dealt with our residential roofing services over the last 20 years.