FLAT ROOFING REPAIR & INSTALLATIONS
We at Expressway Roofing and Chimney have all your Flat Roofing needs covered! Anything from a full installation to repair you can rest easy knowing that the job will be finished on time and within budget the first time. No matter what your flat roofing needs are rather they be flat roof repairs or a flat roof install we are your go to roofing company. If you are looking to have a flat roof installed, then you should know that there are a few different options.
Rubber Membrane Roof
Otherwise known as EPDM, this type of roof is a single-ply membrane material. Almost like that found in an inner tube. However, this has been made to be resistant to damage from the sun. This type of flat roof has several great things going for it, such as it is light weight and leaks are easier to patch. However, just like everything in life it also has some cons. Such as it is more prone to punctures and black EPDM roofs will absorb heat.
Roof Bur
This is more of a traditional hot tar and gravel roof. However, it is built from three or more piles of waterproof material. Since this roof uses gravel then you can expect your roof to be somewhat fire retardant as well. This type of roof also tends to be the less expensive. While there are a few other options, we just wanted to touch on a few. If you are in the market for a new flat roof or need repairs to your current flat roof, then we would love the chance to be your roofing company of choice! Feel free to give us a call or fill out the form below and someone will be in touch shortly!
Other services we offer
Some of our other services include roof repair, gutter repair, chimney install and repair and much more!
LONG ISLAND'S FLAT ROOF REPAIRS EXPERTS
The Most Dependable & Affordable Residential Flat Roofers On Long Island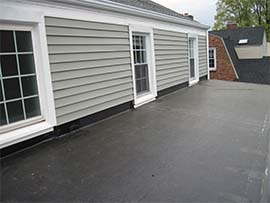 We at Expressway Roofing and Chimney have all of your roof needs covered!
Are you looking for a Long Island roofing company that won't beat around the bush with awful customer service? Our free, fair and honest quotes are completely transparent. In fact, our business model was designed around that concept of fairness, openness and honesty – just for our fellow homeowners across Nassau and Suffolk counties. Don't do business with a roofer that's not clear in what they need to get the job done. Trust in Expressway Roofing and Chimney just like our long list of Long Island homeowners that have dealt with our residential roofing services over the last 20 years.