COMMERCIAL FLAT ROOF REPAIRS
Is A Flat Roof Repair Needed?

Flat roofs do offer a wide variety of benefits. They also allow ample fresh air and natural light into the building. Installing flat roofs are also an affordable and relatively quick solution to your roofing problems. 

If you have a leaking roof, you must correct the issue ASAP. Often times property managers will ignore a leak or use a 'quick fix' tactic to manage the issue. But ignoring a roof leak or mismanaging a leak in a roof is extremely cost ineffective. If you want to avoid long-term damage and structural integrity issues of your building, hire a professional flat roof repair contractor like Expressway right away to correct the issue.

Roof repair issues will never be on top of 'the fun list', especially when the situation is an emergency! Hail damage, storms, tornados, excessive rain – we know weather happens. That is why Expressway is here for our customers when they need us the most. Our company provides 24/7/365 emergency roofing repairs so that your business operations are not interrupted. When you call our roofing company, you're working with professional roofers.

We specialize in stripping off old membranes and replacing them or if the underlying boards are damaged – we replace them too. We can replace them too all without damaging plaster on the interior ceiling. Of course sometimes a roof is so damaged that the membrane, felt, timbers and joists all need to be replaced. If this is the case we will handle that and we will even re-plaster the interior ceiling too (if necessary).

We only use the highest quality insulation in our roofs, which means you are kept warm in the winter, but also cool in the summer which will save money on your heating bills. Weatherproofing an existing flat roof is another common repair service we provide. 
Commercial/Residential Flat Roof Repair Services we offer:
New flat roof with or without insulation
Decks
Garages
Office buildings
Retail spaces
Houses
Extensions
Canopies
Garden sheds
As is the case with most roofing types, flat roofing does require regular maintenance and an occasional repair. Our roofing experts recommend at least visually inspecting and servicing your roof at least twice a year and always after severe weather. You may find that your flat roof needs a professional repair.

If you need flat roof repair or maintenance services, keep reading to learn more about flat roofs and what flat roof reparation entails.
Roof Coatings And Types We Repair

Brush-on liquid rubber (EPDM) Paralon built-up and sintofoil Asphalt, torch-down Shingle/Cedar Shake Membrane/felt Fiberglass Zinc Rubber EPDM Copper Steel Aluminium
Sign You Need A Professional Flat Roof Repair

Cracks in the surface of your roof can be symptomatic of a bigger underlying problem. It is important to pay immediate attention to prevent cracks from increasing in size and from causing leakages. If you see water dripping from your ceiling when it is raining, it means that your roof is leaking. The most common cause of leakages in flat roofs are breaches in the membrane. Fortunately, this is mostly a quick and easy repair job. As membranes get old and reach the end of their lifespan, they may start to shrink and pull away from the edges of the roof. This can cause a dislocation, which can be detrimental to the structure of your roof. When age is the cause of shrinking, the only solution is often to replace the membrane completely. People like walking on flat roofs. If the membrane is not geared for accommodating foot traffic, it can tear or become dislocated from the trims. Most of the time, repairing this type of damage is relatively easy, especially in the case of rubber roofing. Flat roof repair typically takes place in four stages. These stages are inspection, diagnosis, recommendation, and repair. Let's take an in-depth look at these four stages.
What Will A Flat Pro Do That I Can't Do Myself?

First – we will do an expert inspection. This is the first and a critical stage in the reparation process. In many cases, the obvious damage is due to an underlying (read as invisible) cause. It can also happen that damage is only visible upon routine inspection. This is why maintenance is so important. Experienced roofers may be able to identify a problem at first glance, but, in many cases, close inspection is needed to ascertain what the cause of damage is. After inspection, the roofing professional will come to a conclusion based on observations made during the inspection phase. It is important to make the correct diagnosis, especially if the cause of a symptom, for example, surface cracks, is obscured from view.
What Do The Flat Roof Pros Recommend?

During this stage, the roofing professional will furnish the homeowner with a written document that details the defect, the cause thereof, the recommended cause of action, and an estimation of the cost of the repair project. Expressway offers these first stages for free and homeowners are under no obligation to hire us to complete the repair job.

Repairs are the actual steps taken to remedy the problem. It is important that the repair job is conducted in a manner that ensures a long-term solution to the defect won't arise in the future. In many cases, it is necessary to make use of professional roofing services, especially if the job is technical and requires specialized equipment and experience.
LONG ISLAND'S FLAT ROOF REPAIRS EXPERTS
The Most Dependable & Affordable Residential Flat Roofers On Long Island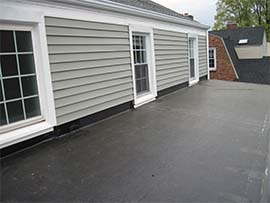 Expressway Roofing & Chimney has all of your commercial and residential flat roof needs covered!
We're a decades-old, Long Island, family owned and operated all-aspects roofing company that won't beat around the bush or provide awful customer service. Our free, fair and honest quotes are completely transparent. In fact, our business model has evolved around a concept of fairness, openness and honesty – for our fellow homeowners across Nassau and Suffolk counties. Trust in Expressway Roofing & Chimney –  just like our long list of Long Island homeowners that have used our roofing services over the last 20 years.
LI Roof Repairs
Cedar Roof Repairs Contractor Long Island
LI Fascia Repairs
Flat EPDM Roofing In Suffolk
EPDM Flat Roof Maintenance In Suffolk
Flat Roofing Contractor Near Nassau
Gaco Roof Repairs In Suffolk
EPDM Garage Roofing On Long Island
LI Flat Roof Flashing Repairs
LI EPDM Repairs
New EPDM Roofing Repairs Suffolk
LI Roofing Repairs
New EPDM Coating Repairs Near Nassau
New Rubber Roof Coats Near Nassau
EPDM Roof Contractor In Suffolk
Attic Fan Installations On Long Island
EPDM Roof Repairs In Nassau
Roof Waterproofing On Long Island
EPDM Roofing Shingle Installs On Long Island
Rotted EPDM Repair In LI
Rubber Roof Repairs In Suffolk
EPDM Shed Roofing On Long Island
Shingle Roofing Installs On Long Island
Flat EPDM Roofing Contractor Long Island
EPDM Roofing Installation On Long Island
Roofing Leak Detection Near Nassau
EPDM Roofing Leak Repairs LI
Roofing Repairs On Long Island
LI EPDM Roofing Underlayment Repairs
LI Spanish Tile Roofing
Fascia/Soffit Repairs On Long Island
Storm Damage Repair In Suffolk
LI Flat Roof Repairs
Repairs Rubber Roofing
Vinyl Roofing Replacement Near Nassau
New Flat Roofing Repairs In Suffolk