FLAT ROOFING REPAIR & INSTALLATIONS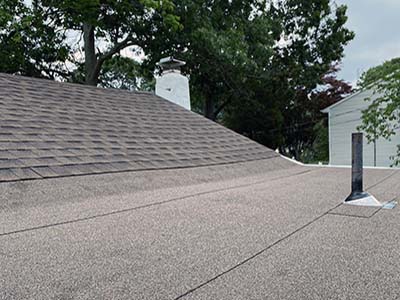 For Flat Roof Repairs (Or A New Flat Roof)
Expressway Roofing & Chimney has all of your flat roofing needs covered! Our flat roofing services cover anything from a full, new, flat roof installation to simple flat roof leak repairs. You can rest easily knowing that your flat roof job will be finished – properly, on time and within budget – the first time. No matter what your flat roofing needs are – if you need flat roof repairs or a flat roof install for your home or business, we are your go-to roofing company. If you're looking to have a flat roof installed, then you should know that there are a few different options.
Roofs without a pitch or slope are normally found on commercial establishments. The very design of the roof makes it susceptible to leakages as rainwater does not run off immediately and can even accumulate if there are any declivities present. The first signs that you will see if your roof is leaking is dampness on the ceiling or walls of the rooms immediately below the roof.
At Expresswway we have wide experience in dealing with repair of flat roofs and our technicians have an expert level of knowledge in identifying and repairing the areas on the roof which allow water seep in.
For example, dampness may be visible on the wall of a room which is located two levels below the roof even though the room above shows no sign of moisture on its walls. Our workmen have carried out repair jobs on dozens of structures which have flat roofs and will quickly be able to spot the problem areas.
There are several options available to protect a flat roof from leakages. Some of the more common ones are:
EPDM – Ethylene Propylene Diene Monomer has a rubbery texture and is easy to install. It is also economical, making it one of the most common components in a flat roof system.
Modified Bitumen System – One of the more durable options, installation requires a high level of skill. Asphalt and ceramic granules are used and finally a weather-resistant polymer coating is applied to ensure a high level of water resistance.
TPO – Thermoplastic Polyolefin is extremely durable and requires little maintenance. Additionally it contains a heat-resistant material which also provides protection from ultraviolet light and chemical exposure.
BUR – Built-up roofs are a hot tar and gravel roof system which is an old technology. It is economical and highly fire-retardant. But it is heavy and the roof to which it is being applied may require structural strengthening if this system is to be used.
Repair and Replacement Options – Our technicians will examine your flat roofing system and guide you on the best way forward. While it is more economical to carry out repairs, there are times when the damage to the roofing material is so extensive that it is more advisable to go in for complete replacement.
Rubber Membrane Flat Roof
 
Otherwise known as EPDM, a rubber membrane roof is a single-ply membrane material installed like a wrap for your roof. EPDM acts almost like an inner tube in a bicycle's wheel. However, EPDM has been engineered to be resistant to heat damage from the sun. EPDM flat rooves have several great things going for them, such as they are lightweight and any leaks are much easier to patch. However, just like everything in life – rubber membrane roofs have a few small cons. Such as it is more prone to punctures and black EPDM roofs will absorb heat. EPDM roofs can be white to counter the heating affects of using black.
Roof Bur (Built Up Roof)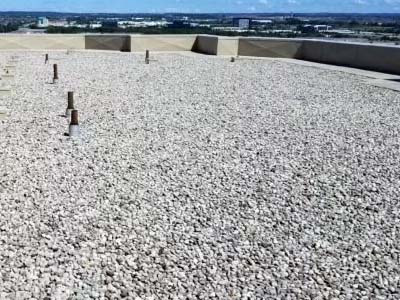 Bur (or Built Up Roofs) are more of a traditional hot tar and gravel roof. However, it is built from three or more piles of waterproof material. Since this roof uses gravel then you can expect your roof to be somewhat fire retardant as well. This type of roof also tends to be the less expensive. While there are a few other options, we just wanted to touch on a few. If you're in the market for a new flat roof or need repairs to your current flat roof, then we would love the chance to be your roofing company of choice! Feel free to give us a call or fill out the form below and someone will be in touch shortly!
CVS Bitumen Flat Roofs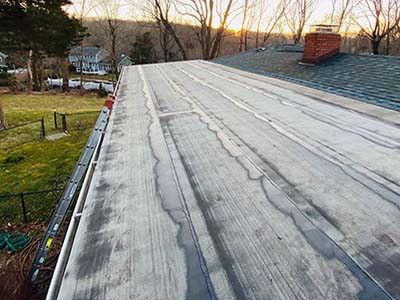 Bitumen is akin to a built-up-roof in that it's composed of asphalt rolls usually 3′ wide – but a modified bitumen roof is usually only made of only 2 piles or layers (a base sheet and a cap sheet). Modified bitumen can be installed 4 ways: 1) with an applied hot tar 2) with a cold applied, solvent-based, adhesive that doesn't require heat 3) 'torched down' with an open flame that fuses the two sheets together or 4) a peel and stick base and cap sheet can be used that self adheres once the release tape is removed. The cap sheet or top layer usually looks granulated and is often light gray in color.
Other Flat Roofing Services We Offer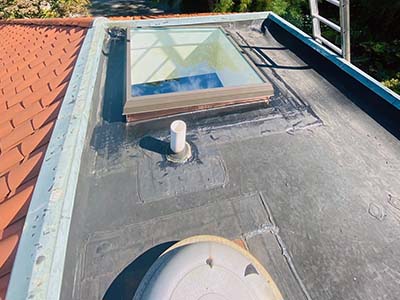 Roof system installation and repair services
Roof replacement and repair services
Torch down hot tar repairs and services
Flat roofing installations, repairs and services
Gravel roofing installations, repairs and services
Flat roof skylight repairs and installations
Hipped roofing services
Aluminum roofing services and installations
Roof flashing installation and repair services
Galvanized roof installation and repair services
Rubber roofing services
Gable roofing services
Metal flat roof installation and repair services
Roofing inspection and consulting services
Gambrel roofing services
Roofing inspection services
Roof siding
Hail, wind and rain damage repairs
Roofing shingles repairs and replacements
Siding repair services
Roofing repair services
Cedar roof repair services
Gaco roofing installations
We're A Full Service Roofing Company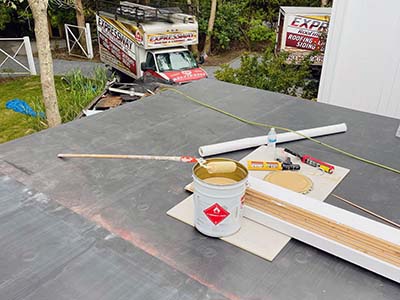 Some of our other full-service home improvement services include, gutter repair, siding, chimney cap and crown installs and repair and much more!
Our Roofing Experts Can Install Or Repair
Flat roofs
Low slope roofs
Gable roofs
Clipped gable roofs
Bullnose roofs
Dutch gable roofs
Gambrel roofs
Hip roofs
Mansard roofs
Shed roofs
Flat Roofing Services Expressway Offers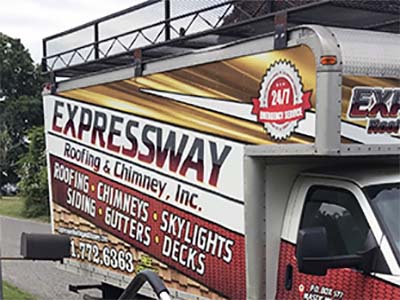 Leaky roof? Hail damage? Strong winds tearing up the shingles on your home? We are here to assist home owners Flat roofs tend to be more vulnerable to leaks, punctures and blistering, which can be quite costly if there's any damage to your property, possessions, and even severe injuries.
Expressway has been installing flat roofs in New York for over 20 years. We offer cost-effective roof systems to fit most budgets and situations. The manufacturers we partner with are some of the largest in the industry offering high quality products with labor and material warranties up to 30 years.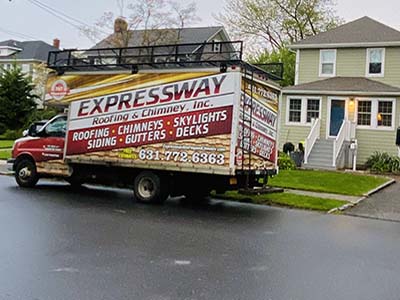 We specialize in re-roofing / re-covering, partial and complete roof removal and replacement, thermal and tapered insulation systems and custom made sheet metal accessories. All of our work is guaranteed. We pride ourselves on doing high quality work right, the first time. 
We are experts at all things 'flat roof'. We've been continuously in business for over 20 years. Some of our other flat roofing services include general flat roof repair, flat roof gutter repair, flat roof chimney repairs and installations and much more. Please call us at 631.772.6363 for your next flat roof repair service.
LONG ISLAND'S FLAT ROOF REPAIRS EXPERTS
The Most Dependable & Affordable Residential Flat Roofers On Long Island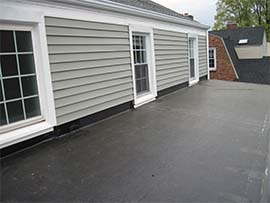 Expressway Roofing & Chimney has all of your commercial and residential flat roof needs covered!
We're a decades-old, Long Island, family owned and operated all-aspects roofing company that won't beat around the bush or provide awful customer service. Our free, fair and honest quotes are completely transparent. In fact, our business model has evolved around a concept of fairness, openness and honesty – for our fellow homeowners across Nassau and Suffolk counties. Trust in Expressway Roofing & Chimney –  just like our long list of Long Island homeowners that have used our roofing services over the last 20 years.