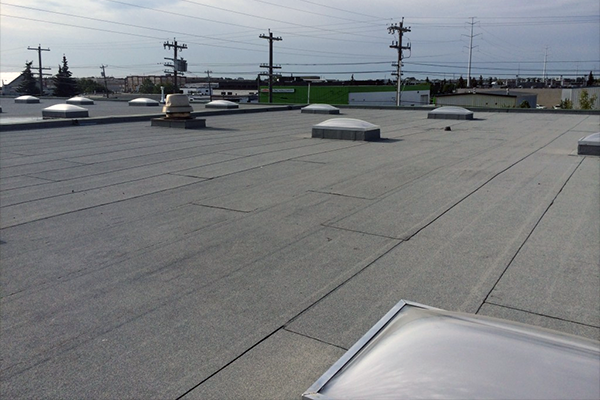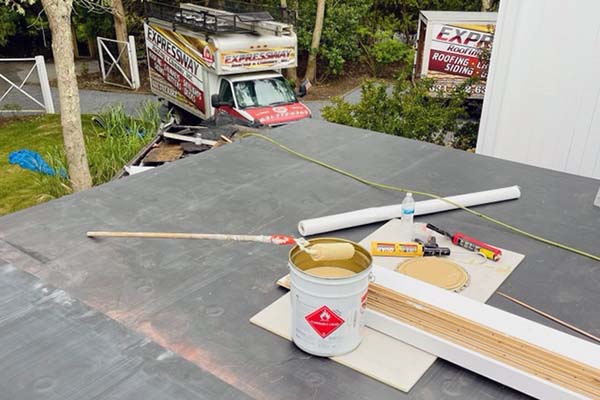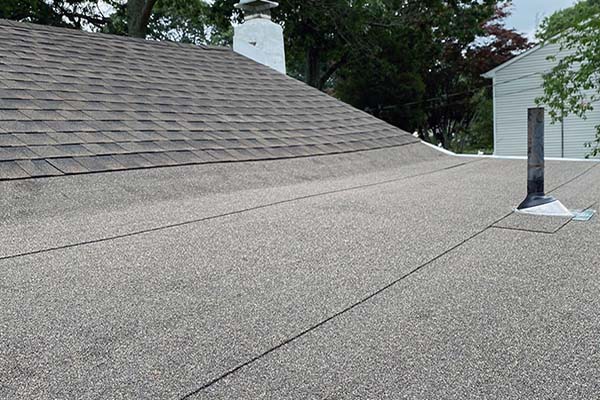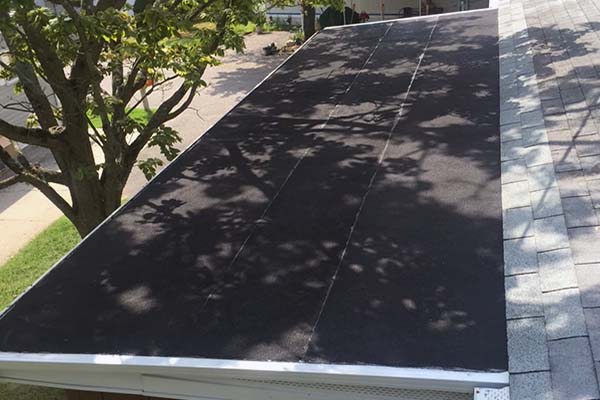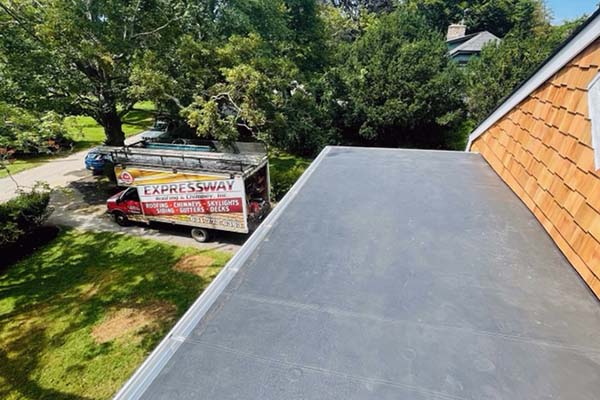 COMMERCIAL FLAT ROOF REPAIRS & INSTALLS

Commercial Flat Roofs Protect Your Building
Expressway is Long Island's commercial flat roofing experts. We offer residential roofing and commercial roofing installations, including single ply membrane roofing systems. We are committed to using high quality, American made roofing materials for all of our installations and roof repair work. Contact us today for a free estimate and learn more about how our roofing experts can help you protect your building (or home). Even the simplest roof repair jobs should left to professionals like the techs from Expressway. A fully-adhered EPDM roofing system is particularly tricky to install correctly. Our roofing contractors have the right skills, tools and experience to use them safely without causing any damage or leaving your roof vulnerable in the process.
Do I Need A Commercial Flat Roof Repair?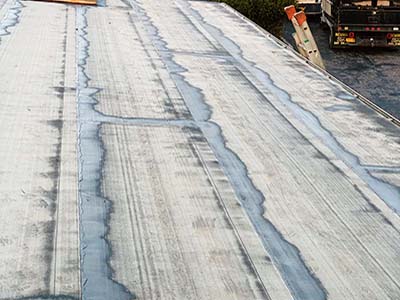 Do you see an accumulation of worn-down roofing materials in your gutter or roof edge? Are there brittle, curled or cracked shingles or roofing materials? Can you see water spots on the ceiling and walls in the rooms underneath the roof? If water leaks into rooms or into the attic after a heavy downpour you need to call someone like us ASAP. Are there dark and wet shingles? Are they missing or loose? Are your roof tiles worn or torn? Check closely for yourself around your buildings roof objects (pipes, chimneys and vents) and if you see evidence of a problem – call us to repair the roof damage.
Do I Need A Total Flat Roof Replacement?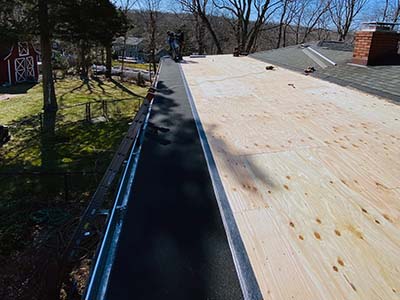 You may need a total flat roof replacement if you see your roof sagging – which usually results from an improper initial installation and therefore excessive exposure to moisture. Are there large water stains on the walls and/or damp ceilings in the rooms beneath the roof? Is there moss and mold growth on the roof tiles, shingles or other roofing material? These could be signs of irreparable water leaks in the rooms or attic due to poorly-installed roofing and damaged flashing. Are there falling mortars utilized as bedding for the tiles in older roofs? Can you see light rays peaking through the roof? These are generally signs of neglect and the need for a new roof.
Our Flat Roof Inspection Services Include…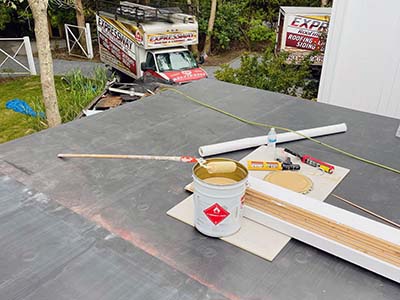 We are trained to look for moss and mold growth on the roof shingles. We check for proper ventilation and insulation. We take a good look at the upper rooms and the attic – mostly looking for damp walls or ceiling and evidence of water leaks. We will always carefully check the condition of the roof material itself – searching for any damaged flashing or other structural problems like a sagging roof.  We will inspect the damaged, loose or absent flat roof materials and search for the root cause of any light entering the house from the suspect roof.
Does Expressway Replace Mod Bit Flat Roofs?
Yes. Modified Bitumen is more commonly known as mod bit, which is a flat roof that consists of more than two layers of bitumen sheets. The latter is installed with a gas-fueled torch – forming a light-colored roof coating – that reflects sunlight and keep your building's indoors cool. This roof type is suitable for a busy, commercial place where keeping the indoors cool is of prime concern to keep your electricity consumption and bill down.
Can Expressway Replace Bur Flat Roofs?
Yes. A built-up roof (bur) consists of alternating layers of reinforcing roofing materials (and asphalt) that produce a very smooth finished roof. Bur roofing is high tensile in strength and very water-resistant which makes it perfect for commercial buildings. It allows ease in conducting sectional repair and replacement services, without interrupting other activities. This is why busy buildings have built-up roofing over other types.
Does Expressway Replace Tar And Gravel Roofs?
Yes. Tar and gravel roofs are built from either three to five laminated layers of asphalt-based sheets, roofing felt and then tar. Another layer of bitumen and a mineral coating is then added to make the roof even tougher. Light-colored gravel is then placed on top to cover the dark patches and to reflect the sun's rays and protect the roof layer from damage. Installing a flat tar and gravel roof can be time-consuming because this roof type involves a lot of layering to make the flat roof truly tough and sturdy.
Can You Install My EPDM Roof?
Yes. Rubber membrane roofs, also known as EPDM (ethylene propylene diene terpolymer) roofs are usually black in color (they can be painted white later), durable and heat resistant. EPDM roofs are flexible – which means that they can expand and contract nicely without cracking or breaking. For this reason, commercial buildings exposed to extreme temperatures generally use this membrane roof type over all others.
Can Expressway Install A TPO Roof On My Building?
Yes. A thermoplastic membrane (or TPO) uses a single roof material layer made of polypropylene rubbers and ethyl propylene. TPOs are light in color which helps the roof reflect brutal sunlight – thus keeping the premises cooler on the inside. TPO roofs are highly water-resistant and the materials are sustainable – which means they last for several years. These attributes make this roof one of the more suitable options for commercial buildings.
Flat Roofing Services Expressway Offers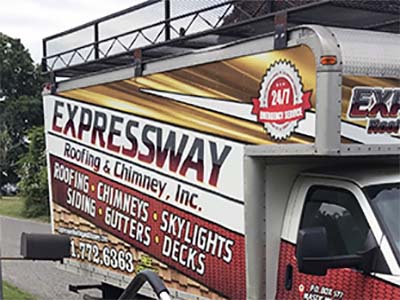 We are experts at all things 'flat roof'. We've been continuously in business for over 20 years. Some of our other flat roofing services include general flat roof repair, flat roof gutter repair, flat roof chimney repairs and installations and much more. Please call us at 
631.772.6363
 for your next flat roof repair service.
LONG ISLAND'S FLAT ROOF REPAIRS EXPERTS
The Most Dependable & Affordable Residential Flat Roofers On Long Island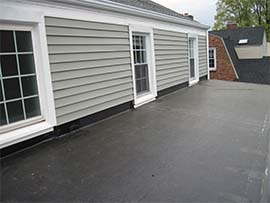 Expressway Roofing & Chimney has all of your commercial and residential flat roof needs covered!
We're a decades-old, Long Island, family owned and operated all-aspects roofing company that won't beat around the bush or provide awful customer service. Our free, fair and honest quotes are completely transparent. In fact, our business model has evolved around a concept of fairness, openness and honesty – for our fellow homeowners across Nassau and Suffolk counties. Trust in Expressway Roofing & Chimney –  just like our long list of Long Island homeowners that have used our roofing services over the last 20 years.