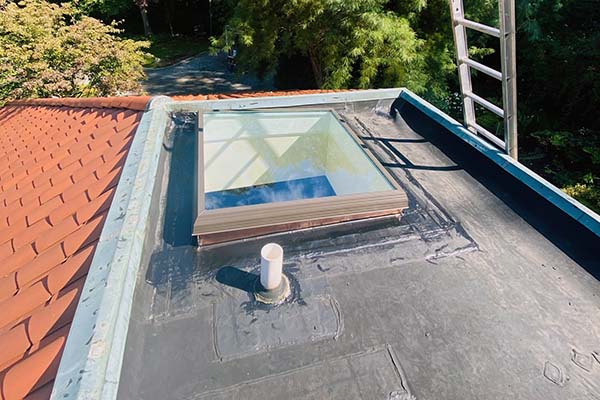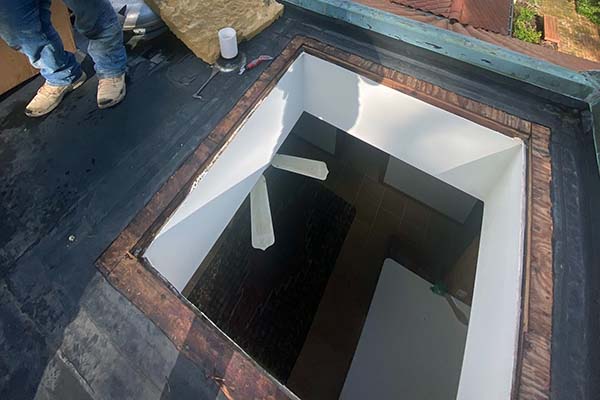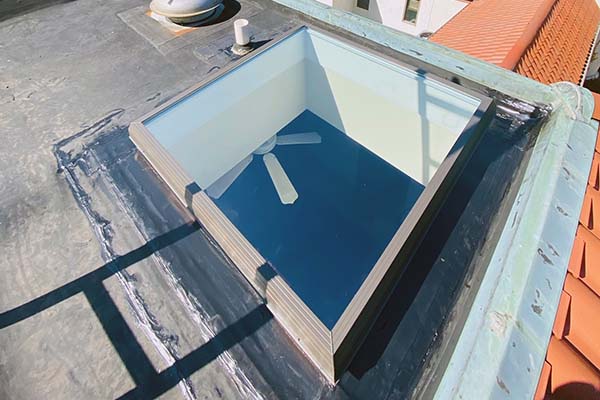 FLAT ROOF SKYLIGHT REPAIRS & INSTALLS
FLAT ROOF SKYLIGHT REPAIRS

Flat Roof Skylights Repaired Or Replaced
Choosing a reliable and knowledgeable flat roof and skylight contractor is probably the most important step in resolving your roof and skylight repair problems. Make sure the contractor understands your current situation and can communicate how their suggested solution fixes the underlying issue! Elements such as chimneys, vents, pipes, skylights and equipment should each appear separately on their roof and skylight inspection checklist. Make sure they inspect all roofing surfaces for cleanliness and look for signs of aging such as cracked or peeling skylight materials, rust, rot and moss or fungus. Also look for structural damage such as unstuck flashing, bent skylight elements, missing parts and sagging pipes.
We install a variety of Skylights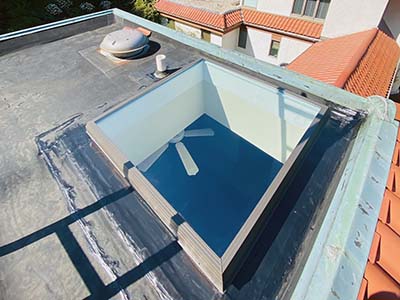 Some of the products we are certified to install include:
Electric venting skylights
Manual venting skylights
Velux 'No Leak' skylights
Fixed skylights
Sun tunnels
Solar tubes
Blackout, Venetian and roller blinds for all skylights
The pros at Expressway are also experts working with sun tunnels and solar tubes – which are a new-style way to enhance your home's appeal and comfort, as well as bring in natural light and fresh air.
Expert Skylight Inspectors and Installers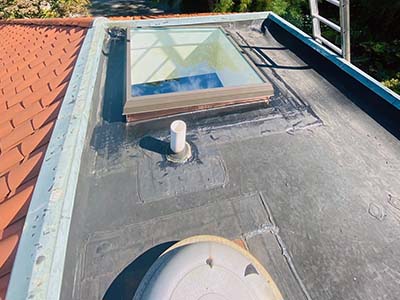 With a small investment, you can dramatically transform any room in your home with daylight and fresh air. In the long run, installing skylights will help you save on your utility bills. 
Expressway will send out an estimator to conduct a free flat roof skylight consultation. Once the job is set and approved, we will send over an installer to come and assess the room the skylights will be placed in. The installer will be able to tell you what size skylights and how many would be best for that room and what installation style would be most efficient (deck mounted or curb mounted).
Our installers will also be able to review blind options with you to complete the look of your skylight. For replacements, we will take accurate measurements and order the new skylights desired for your home as well as install them.
What's The Flat Roof Skylight Installation Process?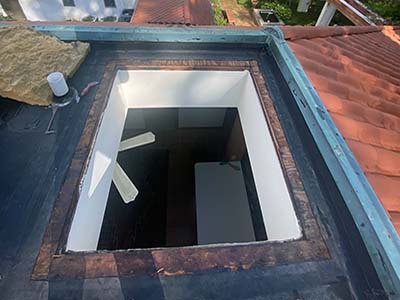 A skylight installation happens in two phases: the rooftop phase and the interior phase. Depending on the circumstances, such as roof pitch, interior light shaft depth and shape and weather – installations can take between a half-day and three days. The rooftop portion of the installation includes cutting the hole and fastening the skylight to the roof with the three layers of protection found in VELUX No Leak skylights. If you need us to repair your current skylight or have a new skylight installed – then contact Expressway Roofing. If your skylight just needs to be tuned up, this is something we can do as well. If your flat roof skylight needs new flashing, new caulking, new sealant or a leak repair, this is also something we're well acquainted with.
What Types Of Skylights Can I Have Installed On My Flat Roof?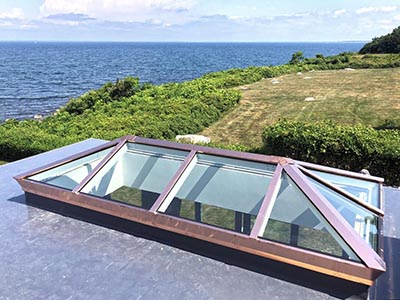 We specialize in Velux flat skylights for houses and businesses in Nassau County and Suffolk County, as well as pyramid glass skylights for all of our Long Island buildings. 
Pyramid glass skylights are usually made of aluminum or galvanized metal and are used to cover and protect joints or seams in a roof. While it's rare for them to crack, they can corrode and fail.
Is My Flat Roof Skylight Flashing Damaged?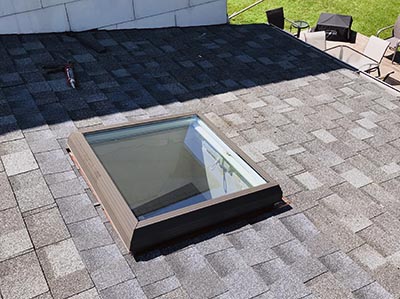 If flashing was required to install the skylight on your rooftop you need to pay extra attention to it as it may peel, crack or break away. Make sure the flashing is not pulling away from the roof or leaving any gaps that water can get in. This can be an indication that you may have leaking or serious damage to your roof membrane. This should also be a place in which you check for mold. While all flashing problems create potential for roof leaks, flashing damage around skylights and chimneys should be repaired immediately because when these flashings fail, water can gain direct entry into your home.
Flat Roofing Services Expressway Offers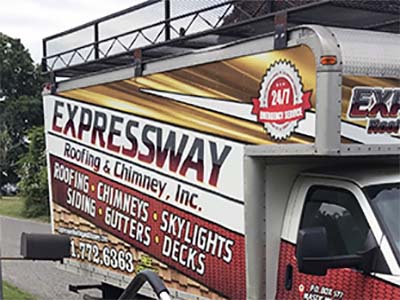 We are experts at all things 'flat roof'. We've been continuously in business for over 20 years. Some of our other flat roofing services include general flat roof repair, flat roof gutter repair, flat roof chimney repairs and installations and much more. Please call us at 631.772.6363 for your next flat roof repair service.
LONG ISLAND'S FLAT ROOF REPAIRS EXPERTS
The Most Dependable & Affordable Residential Flat Roofers On Long Island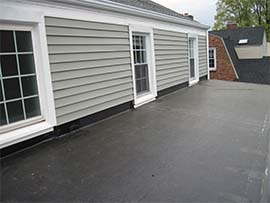 Expressway Roofing & Chimney has all of your commercial and residential flat roof needs covered!
We're a decades-old, Long Island, family owned and operated all-aspects roofing company that won't beat around the bush or provide awful customer service. Our free, fair and honest quotes are completely transparent. In fact, our business model has evolved around a concept of fairness, openness and honesty – for our fellow homeowners across Nassau and Suffolk counties. Trust in Expressway Roofing & Chimney –  just like our long list of Long Island homeowners that have used our roofing services over the last 20 years.