EPDM FLAT ROOF REPAIRS & INSTALLATIONS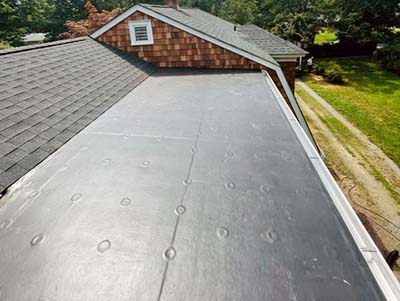 Installing An EPDM Rubber Flat Roof
EPDM Repairs, Replacements And Installations: 
Do you know what an EPDM roof is? If not, here's a start: EPDM stands for ethylene propylene diene monomer. This name describes the chemicals (known as monomers) that are mixed in to create the EPDM roofing materials. EPDM is recognized for its fantastic durability and affordability. Many small business owners have made it their business to invest in EPDM roofing. When it comes to flat roofing, EPDM rubber roofing is one of the best options for flat-roofed commercial buildings. This roofing system uses a single ply membrane to protect a flat roof from water leaks and other damage. It's a tried and true method that's provided durable commercial roofs for 60 plus years. If you need a flat roof replacement and you want something that requires less maintenance than an old BUR (built up roof) – should consider EPDM.
EPDM roofs are a single-ply membrane. Almost like that found in an inner tube of a tire. However, EPDM has been made to be resistant to damage from the sun. This type of flat roof has several great things going for it, such as it is lightweight and leaks are easier to patch. However, just like everything in life it also has some cons –  EPDM is more prone to punctures and black EPDM roofs will absorb more heat.
What Are The Benefits Of EPDM Roofing?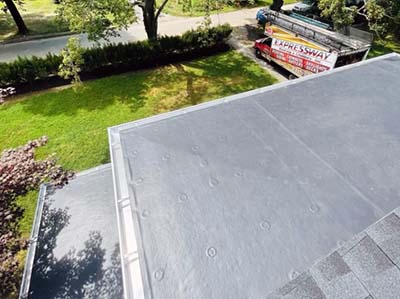 EPDM has one of the longest life expectancies of any flat roofing material – EPDM can last 50 years (assuming proper care). EPDM is durable, eco-friendly and it can lower your climate control costs (if you choose the right color EPDM). A white EPDM membrane will reflect heat and keep your premises cool during the summer, while the standard black rubber membrane will absorb heat and keep your building much warmer in the winter. This is something to think about up front.
While EPDM roofing is more expensive up front than some other single ply roofing systems (like a TPO roofing installation) your roof will generally last twice as long, especially in hot weather climates. TPO roofing is a lightweight, leak-free roofing system that reflects 90% of the sun's UV rays. An EPDM rubber roof is more pliable than most other roofing materials and it won't expand or contract as much with temperature changes, so roof maintenance is generally minimal. If EPDM gets damaged, there are plenty of methods for patching and sealing the membrane and our professional roofers can repair it quickly.
Is An EPDM Cost-effective To Repair?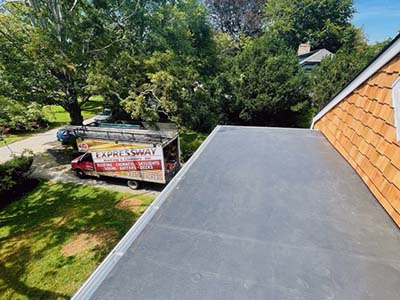 Readily available and relatively cheap, EPDMs are also easy to maintain. EPDM roofing can be easily repaired if it ever sustains damage. EPDM sizes can also be adjusted by cutting the sheets to fit any non-standard measurements on some building's rooves.
Are EPDMs Weatherproof And Fire Resistant?
Yes! EPDMs can withstand extreme temperatures, wind and to a good extent – hail. An EPDM roof will not crack in freezing temperatures since the rubber material contracts or expands to avoid damage. Aside from being durable, this roofing system also provides reliable protection from UV rays. White EPDM effectively reflects the sun's rays, thereby reducing energy consumption that translates to savings. When it is really hot, an EPDM roof can lower the temperature of your roof by almost 80 degrees. This roofing protects against cold and snow. When properly installed, ponding won't be a concern either. Lastly, to help regulate and optimize temperature, we recommend painting a black EPDM roof with white acrylic paint.
Will My EPDM Roof Last Long?
Depending on the severity of Long Island's fluctuating weather conditions and climate, EPDM roofing can last up to 50 years or more. No matter when your new EPDM roof was installed, the material will reveal very little visible damage, with no signs of degradation. This flat roofing system has a winning record in high-level performance and endurance that results in lower lifetime costs over other flat roofing materials.
Is An EPDM Roof Easy To Install?
For a pro – no. For a homeowner – yes. When installed and maintained properly by a flat roofing professional, EPDM pros generally lengthen the lifespan of that material. However, it does need a certified EPDM installer who has undergone special training and uses special equipment. As long as proper roofing, drainage is established, EPDM remains stable in all weather conditions, thus permitting a year-round installation schedule. Its ease of maintenance significantly reduces labor requirements when compared to other traditional roofing systems.
Is EPDM An Environmentally Safe Product?
The chemical materials used in EPDM are manufactured sustainably. Having an exceptionally long lifespan, it takes a very long time for this roofing to degrade to the point where it needs to be discarded, making it less likely to wind up in landfills. EPDM is available in low VOC (and no VOC options) for quick and inexpensive applications. EPDM is cost-effective and easy to maintain. The material is light and is resistant to tears and scuffs. Leaks are also relatively easy to patch. EPDM comes with a guaranteed useful service life of decades. It may surprise you that the two primary ingredients in EPDM roofing materials are oil and gas. This mixture forms a durable synthetic rubber membrane perfect for commercial, industrial or residential flat or low-slope roofing projects.
Don't Flat Roofs Pond?
Standing water can be a problem for EPDM roofs – in spite of it being rubber. If standing water is left for more than 48 hours, possible damage can occur, so make sure to check the graded slope of your roof for proper draining of water. Our roofing pros will make sure the slope is proper before installing the EPDM roof.
How Do You Install EPDM Roofing
Single ply roofing can be installed using mechanical fasteners, a ballasted system or it can be fully adhered with a chemical adhesive. Fully adhered installations offer the best leak resistance and the longest life expectancy, but they are also more difficult to install properly. They require experience (and a lot of skill) to avoid common mistakes that often lead to roof leaks and roof failure.
EPDM panels consist of four different layers:
Base layer of elastomeric EPDM
Second layer is an AFR EPDM (the fire-retardant)
Third layer is an FRM polyester (fiber-reinforcement)
Top layer is the optional flex white roof coating
During installation, we combine these layers to create a synthetic rubber material ideal for surviving in a harsh climate.
EPDM Roofing Installation Guide
Prepare the Roof Deck: 
The roof deck should be thoroughly clean from any dirt, oil or grime and you should sand any sharp edges of the plywood or OSB board. Even a tiny amount of moisture can lead to future problems with the adhesive, so it's paramount that everything is dry before you begin the EPDM installation. If you're installing your EPDM over an existing roof, you should cover the roof with clean, sanded plywood or OSB board to provide a barrier to protect the membrane. If you're applying the EPDM directly to roof decking, consider adding a layer of insulation to prevent problems with water vapor. Always install it according to the manufacturer's guidelines. For better insulation, use a chemical adhesive.
Add a drip edge and drip batten: 
Once the roof deck is ready, you'll need to install the drip batten into the fascia around the roof to extend the decking to force draining water into your gutter system. Next, install the drip edge, aligning the curved top with the batten. This ensures that  water stays off the roof's edges and prevents erosion around your foundation.
Install the rubber membrane: 
You'll need enough EPDM membrane to completely cover your roof, along with a thick overhang for the exterior walls and roof edge. When the roof deck is prepared and the drip edge is installed, you'll need to give the roofing membrane time to create its shape. Unroll the EPDM membrane and place it over the area where it'll be placed. EPDM needs to relax in place for at least a half hour first so it won't twist or bend or flex out of place once you've applied the bonding adhesive. Once the membrane has relaxed, roll it back slowly, exposing about half of the roof decking and apply the bonding adhesive with a paint roller, leaving a 6" border around the edge. You need to attach the membrane while the adhesive is still wet by rolling it carefully back into place. Note that on hot days the adhesive will dry faster, so you may need to work in smaller areas then move along around your roof. Once the roof membrane is in place, you can use a push broom to sweep out air bubbles and improve the physical bond. Continue rolling the membrane back and applying adhesive until all of the roofing material is in place.
Apply the finishing touches: 
The final touches may be small, but they take time and care to get right. You'll need to apply adhesive to the border around the edge. Next, you'll need to seal the corners using pressure-sensitive flashing. You'll also need to use flashing to create watertight seals for vents and things that can penetrate the roof. Silicone sealant is normally used to seal all the edges to prevent moisture from entering the membrane. Finally, remove excess membrane by trimming it.
More About EPDM Flat Roofs
Rubber roofs (or EPDM) have been a popular flat roofing solution among many building owners. They were introduced to the local roofing market more than 4 decades ago and since then they've been continuously used in many home structures. Rubber roofs are also used in many flat roof house structures. They are surprisingly cheaper to produce, quite easier to install, and can last for many many years. Because of their popularity, manufacturers use rubberized roof coatings to provide an added layer of protection to the rubber roof.
Getting a new rubberized roof coating entails a lot of benefits that many homeowners can take advantage of. Applying rubberized roof coating can increase the energy efficiency of a rubber roof. The insulation and sealing qualities of the coating will ensure that the EPDM roof will be warmer during the winter season and cooler all throughout summer. This can help HVAC systems regulate the indoor temperature more efficiently. Rubberized roof coatings reflect heat away from the rubber roof. Because of the amazing reflective quality of this rubberized roof coating, it lowers the temperature of the roof – and will also prolong its life.
Flat Roofing Services Expressway Offers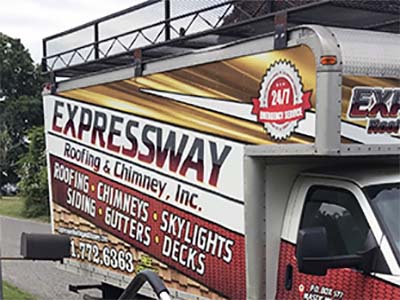 We are experts at all things 'flat roof'. We've been continuously in business for over 20 years. Some of our other flat roofing services include general flat roof repair, flat roof gutter repair, flat roof chimney repairs and installations and much more. Please call us at 631.772.6363 for your next flat roof repair service.
LONG ISLAND'S FLAT ROOF REPAIRS EXPERTS
The Most Dependable & Affordable Residential Flat Roofers On Long Island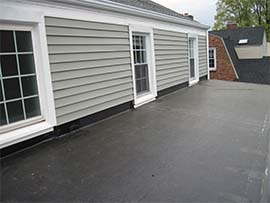 Expressway Roofing & Chimney has all of your commercial and residential flat roof needs covered!
We're a decades-old, Long Island, family owned and operated all-aspects roofing company that won't beat around the bush or provide awful customer service. Our free, fair and honest quotes are completely transparent. In fact, our business model has evolved around a concept of fairness, openness and honesty – for our fellow homeowners across Nassau and Suffolk counties. Trust in Expressway Roofing & Chimney –  just like our long list of Long Island homeowners that have used our roofing services over the last 20 years.