LONG ISLAND'S PREMIER DECKING INSTALLERS
DECKING REPAIRS & INSTALLATIONS
If you're looking for high quality decking installed or need your current deck repaired then you have come to the right place! With our years of experience and certified techs, you can rest easy knowing that the any job we work on will be finished on time and on budget.
Long Island's Wood And PVC Decking Specialists
We build your deck correctly the first time! We know and understand how important your home is to you! We want you to have something worth bragging on, without having to wait for us to finally get it right! We work hard to build high-quality decks. Your satisfaction is our top priority. We treat all of our clients just like we would want to be treated! We believe in doing business the right way, with honesty, integrity and professionalism. Our reputation is one of the factors that set us apart as the best deck building contractor on Long Island.
Our reputation is more important than any deal. And we strive to exceed all your expectations so that you would be glad to tell your friends and family about us. All of our materials are hand picked for your particular project! We pick out our supplies and materials per project from local Long Island decking suppliers. We want you to get the best, and for your new structure to last as long as possible.
We consider your needs, your home structure and your budget before beginning a project! Nobody likes being shocked by unforeseen expenses. We thoroughly inspect any and every aspect of your structure to ensure we know exactly what to prepare for!
We don't cut corners! We want your new deck to be of the utmost quality! We want it to last you a long time and for you to be happy with it for a long time as well! Enhancing your living space is our passion! We do what we love and we love what we do! Fulfilling all of your outdoor addition dreams is our passion! We love the satisfaction we get after wowing our customers!
We are experts in PVC, pressure treated woods and hardwoods!And
LONG ISLAND'S DECK REPAIR & INSTALL EXPERTS
The Most Dependable & Affordable Decking Contractors On Long Island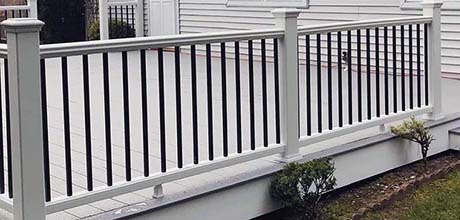 Expressway Roofing and Chimney have all of your deck needs covered! Our free, fair and honest quotes are completely transparent. Our business model was designed around that concept of fairness, openness and honesty – just for our fellow homeowners across Nassau and Suffolk counties. Trust in Expressway Roofing and Chimney just like our long list of Long Island homeowners that have dealt with our residential roofing services over the last 20 years.