Chimney LINER & CAP Quogue
A NEW CHIMNEY LINER & CAP IN QUOGUE, NEW YORK
Chimney Cap & Liner Service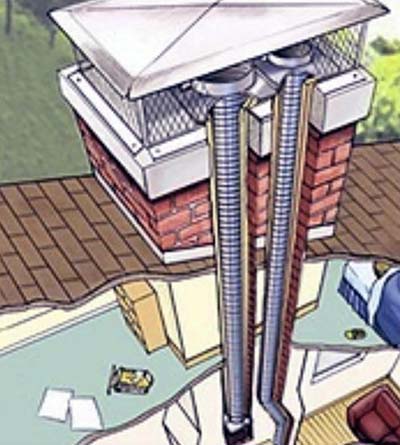 We had a call from a Quogue homeowner recently who noticed that the top of her chimney (the chimney cap and chimney crown) were rusting and starting to crumble. She recognized that if there was rust and crumbling on the outside, then water and other elements were getting inside where she could not see. 
So she called us for a chimney inspection and recommendation on what to do. It turns out – she was correct: the rust and rot had made its way all the way through the cap and down the liner and had rusted the chimney liner all the way down to the first ell corner. It all had to be replaced. 
We tell our Quogue customers that a rotted liner and cap dangerously expose the occupants of that house to all of the noxious fumes that were supposed to be harmlessly released into the outside air. A hole or two in the chimney liner (or pipes) and those fumes no longer harmlessly leave the house – they remain dangerously inside the house and pose a major health risk to you and your family. 
Chimney Cap And Liner Replacements​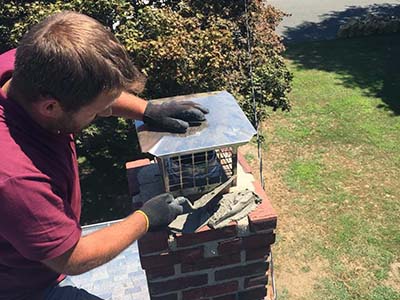 It turned out that that Quogue homeowner needed a new stainless steel 8″x8″ chimney cap, a new stainless steel chimney liner – all the way back to the fireplace and her chimney crown needed to be recemented. All of which we are expertly adept at doing.     
New Chimney Liner Installation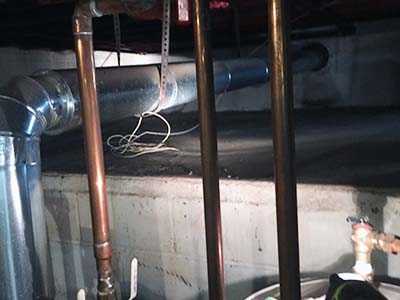 Chimney liners protect the exterior of your chimney (usually exposed brick) from heat and allow the gasses from the burning debris in the fireplace to escape more easily. Opting to have a chimney liner replaced in your Quogue home is a huge deal. This is why we suggest always reaching out to a few companies before you pick one. This will help make sure that you choose the right chimney company for the job. We even suggest this when we are brought into the mix.
New Chimney Cap Installation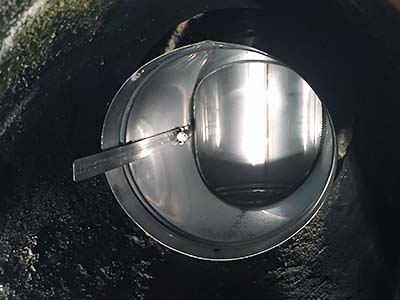 Chimney caps are the lids you see on top of chimneys. You'll see them as silver, which is either stainless steel or aluminum, or a brown color, which is copper. Stainless steel and copper are preferred since they are more weather resistant and may come with a lifetime warranty – this is the preferred choice here in Quogue.
Ideally: chimneys caps serve two main functions. We say ideally because some chimney caps are different. Some aren't designed to protect the crown – while a cap not designed for your chimney may not protect at all. A proper chimney cap should do two things: Protect the chimney masonry or crown of the chimney and protect the inside of the chimney, which in this case is the flue liner.
Together they save your chimney from a lot of potential damage and future expense out of your pocket. A good chimney cap functions and provides protection in two simultaneous ways. It keeps bad things from coming in and allows other bad things to go out.
Why Choose Expressway Chimneys?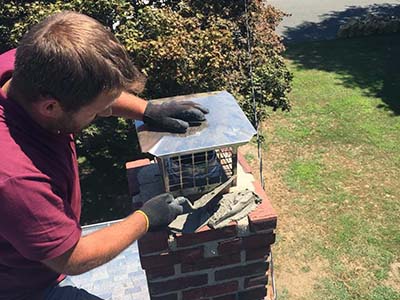 We at Expressway would love to handle all of your chimney liner and chimney cap needs in Quogue, too. However, we know that there are a ton of other chimney contractors and chimney companies to choose from. 
So why choose Expressway Roofing and Chimney? We could tell you about our quality and the Expressway advantage – but would you believe us? Probably not. So we prefer to let our previous work speak for itself. Feel free to check out our chimney liner work in the Quogue area – or better yet – look at some of our Google reviews. We know that after you take a look, you will see just how much pride we take in each project. For more information feel free to fill out the form below or give us a call at 631.772.6363!
ASK ABOUT A CHIMNEY REPAIR
Chimney Leaks Fixed In Suffolk
Suffolk Chimney Caps Installed
New Chimney Boxes In Nassau
New Chimney Flashing Near Suffolk
Suffolk Chimney Repairs
Chimney Flashing Near Nassau
Suffolk Chimney Flashing Replacements
Chimney Repair Contractor In Nassau
Suffolk Chimney Inspections
Chimney Restorations In Nassau
Chimney Sealing Near Nassau
Chimney Flashing Long Island
Suffolk Cap and Crown Repairs
Copper Chimney Flashing Nassau
Suffolk Chimney Flashing Maintenance
Prefab Chimney Repairs Nassau
New Flashing In Nassau
Suffolk New Chimney Installations
Rotted Chimney Flashing Repairs
Suffolk Chimney Contractor
Flue Liner Repairs On Long Island
Storm Damage Repair In Suffolk
Chimney Flashing Roof Repairs In Suffolk
Suffolk Damper Installs
Freestanding Chimney Installs In Suffolk
Suffolk Chimney Repointing
Suffolk Chimney Masons in Nassau