CHIMNEY CROWN CEMENT REPAIR
Chimney Crown REPAIR MANORVILLE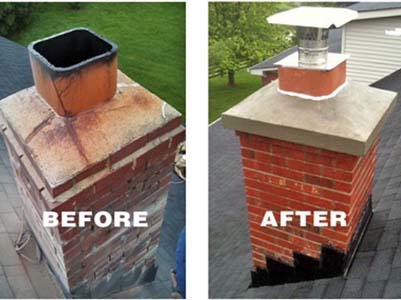 Should We Inspect Your Chimney Crown?
It's been rumored that a chimney without a crown is like a house without a roof. Most homeowners don't think about masonry chimney maintenance beyond the occasional flue cleaning. Although a chimney may seem like a relatively simple structure, several important components must work together to keep a fireplace system in good working order. One of the often forgotten yet critical pieces of the system is the chimney crown. 
Are you forgetting about your own Manorville home's crumbling chimney crown – wondering if it'll last the winter ? Do you think it needs a repair – or a full replacement? Are you afraid of getting up on that ladder? We are too! Just kidding! 

Then you've come to the right place! Expressway Roofing And Chimney has over 20 years of experience with chimney crown and cap repairs and replacements.
A Recent Chimney Crown Repair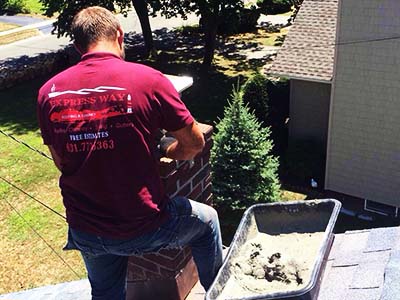 We had a homeowner in Manorville call us recently to replace her decaying chimney crown. The cement holding it in place was all just about completely gone. It was going to have to be a full chimney crown replacement project. No worries though. Our expert chimney pro knows every type of chimney in Manorville and was able to replace the cement, the crown and install a new chimney cap in just about 2 hours.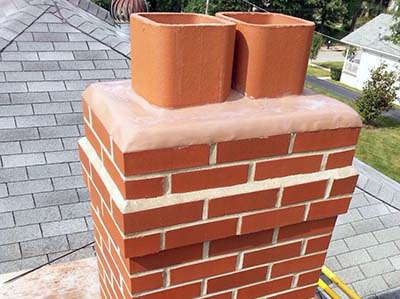 Your chimney crown has much more than just a decorative function. Chimney crowns are an important component of protecting your Long Island home's chimney against water entry – as well as protecting the masonry of the chimney. A chimney crown sits atop the chimney in the same way a real crown sits on the head of a queen.  These large slabs are typically made of concrete and are used to protect and cover the top of the chimney structure around the flue.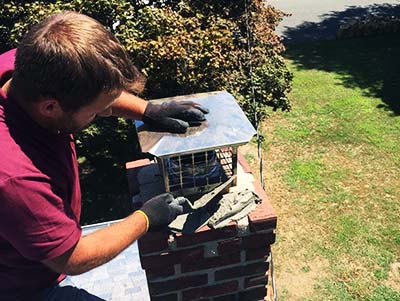 When you light a fire in your fireplace or wood stove in the winter, the chimney heats up severely-cracked-chimney-crown and cools down. As temperatures drop below freezing, any water that is absorbed into your chimney crown from rainfall will freeze and thaw, causing expansion and contraction. This process eventually causes your crown to crack and deteriorate, which is why it is important to prevent water from absorbing into the chimney crown in the first place.
Depending on the severity of damage, the crown will either need to be repaired or totally replaced. Replacement costs often run in the thousands of dollars and should be performed by a qualified chimney sweep. If the cracks aren't too severe to warrant total replacement, the best way to to perform a chimney crown repair is with an elastomeric product that will remain flexible over time.
Chimney crowns provide a brick or stone chimney with a sloped top surface. This will shed water off the top of the chimney. If water is allowed to penetrate the underlying brick and mortar – it will cause a ton of more costly problems with your masonry and chimney. Chimney crowns are especially prone to damage and deterioration caused by the elements of Manorville's weather. Their location at the top of the chimney structure and constant exposure to moisture, sun and the ups and downs of Manorville temperatures can cause them to rapidly deteriorate
Expressway For Your New Chimney Crown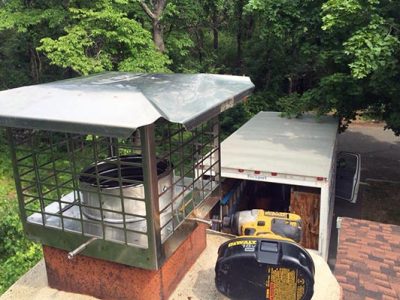 We at Expressway would love to handle all of your chimney crown and other Manorville home's needs. We also know that there are a ton of contractors to choose from. So why choose us? We could talk about our quality and the Expressway advantage. However, we let our work speak for it self. Feel free to check out our reviews or even look at some of our previous work. We know that after you take a look, you will see just how much pride we take in each project.
For more information feel free to fill out the form below or give us a call at 631.772.6363.
FOR Chimney Crown REPAIRs
Chimney Leaks Fixed In Suffolk
Suffolk Chimney Caps Installed
New Chimney Boxes In Nassau
New Chimney Flashing Near Suffolk
Suffolk Chimney Repairs
Chimney Flashing Near Nassau
Suffolk Chimney Flashing Replacements
Chimney Repair Contractor In Nassau
Suffolk Chimney Inspections
Chimney Restorations In Nassau
Chimney Sealing Near Nassau
Chimney Flashing Long Island
Suffolk Cap and Crown Repairs
Copper Chimney Flashing Nassau
Suffolk Chimney Flashing Maintenance
Prefab Chimney Repairs Nassau
New Flashing In Nassau
Suffolk New Chimney Installations
Rotted Chimney Flashing Repairs
Suffolk Chimney Contractor
Flue Liner Repairs On Long Island
Storm Damage Repair In Suffolk
Chimney Flashing Roof Repairs In Suffolk
Suffolk Damper Installs
Freestanding Chimney Installs In Suffolk
Suffolk Chimney Repointing
Suffolk Chimney Masons in Nassau