CHIMNEY REPAIR & INSTALLATION SERVICES
Your prefabricated chimney needs many of the same services as their masonry counterparts. One of the best ways to improve the lifespan of your prefab chimney is to have the chimney swept and inspected at least once per year.
One of the most common issues associated with prefabricated chimneys is damage to the chimney chase cover. The chase cover is the metal top of the chimney that protects the flue from moisture, debris, and animal entry. Inexpensive aluminum chase covers may begin to rust after years of exposure to the elements; this often presents as staining on the sides of the chimney.
Missing caps are another common prefab chimney issue. Unfortunately, this problem – and many other chimney issues – can only be uncovered during a chimney inspection. Because of this, regular chimney service is an important part of keeping your prefab chimney burning safely and efficiently.
Our prefab chimney and other chimney repair services include: chimney repair, chimney cleaning and maintenance, fireplace repair, crowns, chase covers and more.
Expressway Roofing has over 20 years experience and is licensed and insured on all of Long Island NY. We pride ourselves in using only the highest quality chimney repair materials, backed by our guarantees.
We also offer same day and 24 hour chimney emergency services. Don't wait to have your chimney repaired or maintained. A damaged or leaking chimney can lead to major issues. We will gladly come to your home and repair it permanently.
We value every customers business, so no job is too small. We offer competitive pricing for all chimney installation, maintenance and repairs on Long Island.
We Proudly Serve: LONG ISLAND – SUFFOLK COUNTY – NEW YORK
Call for a free prefab or chimney service estimate on Long Island NY today at (631) 772-6363.
We Are Dependable & Affordable Chimney Contractors on Long Island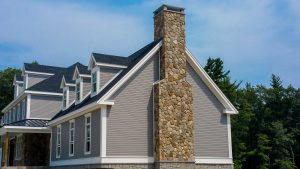 We at Expressway have all of your chimney needs covered!
If your chimney is in need of repairs or need be completely replaced then you are in need of a chimney company you can trust.
However, choosing the right company is hard. In fact, there seems to be more chimney companies these days than 7 Elevens on Long Island. Thus, talking to so many in order to find  the right one is going to be so much harder. Expressway is the name you should keep in mind. Get three bids, but make sure one of them is Expressway.